Trilliums bloom in Jordan Park

A small piece of Cedar Mill's native forest still exists nestled above the corner of 113th and Cornell. Jordan Park has been part of the Tualatin Hills Parks and Recreation District since 1988 when the Jordan family (Jordan Developers, Inc.) conveyed 6.57 acres to the district. Over the next few years they added several more parcels, and Mill Creek Homes, Inc. donated another piece in 2000. A diversity of wildlife lives here including flying squirrels.
Currently the park can be accessed by a narrow and unimproved trail which begins at the north end of 107th Street north of Cornell Bl. and loops down to Cedar Mill Creek.
In 2001, an important addition was made when Jackie Husen Park was created on the south margin of Jordan Park. This is the only flat place in the park, and will provide picnic and play areas as well as a small parking lot. At the dedication ceremony, Carl Husen mentioned that he had decided to memorialize his wife with the parcel he sold to the District because of an article he had read about the Cedar Mill Area Ad Hoc Advisory Committee's work.
As a result of the Ad Hoc Committee's recommendations, the THPRD Board focused district funds to develop parks in our area. They approved the Jordan/Husen Master Plan in January 2002. Walker Macy provided the plans for the park, which will incorporate an accessible trail that will become part of THPRD's Trails Master Plan. See http://www.walkermacy.com/thprd.htm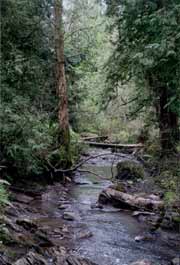 Goals for the park's design included: Provide a community trail along the Cedar Mill Creek corridor through Jordan and Husen Parks. Provide linkages to proposed neighborhood trails and other regional trails within the Portland Metropolitan area. Protect ecological functions of the natural area and minimize impacts to the natural resources.
Now that the plans have been approved, the next step is for the THPRD Board to approve funding for the construction. At this time, it isn't yet scheduled for inclusion in this year's budget. But budget or no, the trilliums bloom on, as they do every spring.
SolvIt Earth Day Project
Jordan/Husen Park
April 26, 2003
The focus will be on invasive plant removal of English ivy & Himalayan blackberry. Bring gloves, loppers, tarps & shovels. Meet at Jackie Husen Park, 10955 NW Reeves 1 block N of Cornell east of 111th.
(503)844-9571