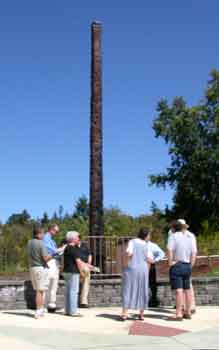 Citizens, officials and reporters gather Monday to survey fire damage to the Sentinel Pole
Update: Sentinel Pole burned, arson investigation underway
Around 10:30 pm on Saturday, August 23, several passers-by phoned in reports of a fire at the Sentinel Plaza to Tualatin Valley Fire and Rescue. A truck was dispatched from the station at Cornell and Miller and the fire was quickly extinguished, but not before serious damage was caused to the Sentinel Pole.
"Normally we don't even investigate fire vandalism, such as dumpster fires," said Tim Birr, TVF&R Information Officer. "This is obviously an important asset to the community, so the firemen at the scene contacted our investigator who came out and began an arson investigation."
A complete story will be included in the September issue of The Cedar Mill News. Updates will also appear on this page as information is obtained.
Oregonian article, Tuesday August 26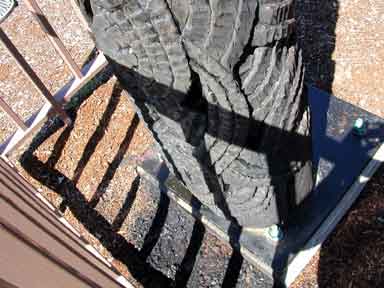 ---
Sentinel Pole comes home at last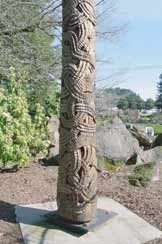 Last Fall, ODOT awarded a contract for the construction of The Cedar Mill Sentinel Plaza to Brant Construction, of Vancouver, WA. This bicycle and pedestrian plaza at the northeast corner of NW Cornell and 113th will incorporate the "Sentinel Pole," a totem pole carved by local Native American artist Rick Bartow. Brant will construct a concrete circle and sidewalks with decorative colored tiles. The Sentinel Pole will be erected next to the center. Illumination and landscaping will also be installed as part of this project.
Cedar Mill Elementary School children have provided artwork for the project by decorating the tiles which were fired at the Oregon College of Art and Craft. Doria Mateja of Washington County Planning Section designed the plaza using her experience as a landscape architect. The contractor began clearing operations in March, but is waiting for better weather to begin earthwork. Estimated completion date is May 31, 2003. There will be a grand opening celebration in early summer, and the CMBA will be invited to take part.
In 1999, Washington County received a $180,000 "transportation enhancement" grant for the project from the federal government through Metro. These grants are meant to fund cultural or aesthetic elements of transportation projects. A committee including representatives from the County's Department of Land Use and Transportation, CPO #1, the Cedar Mill Business Association, Oregon College of Art and Craft and the THPRD met to guide the planning for this new community amenity.
The Cedar Mill Sentinel Pole creatively preserves a piece of the cedar grove removed for the Cedar Hills Boulevard Extension. Rick Bartow, a highly respected Native American artist, was chosen to carve the Pole because one of the central themes of his art is the concept of transformation. His inspired creation was chosen as the centerpiece of the Native American Public Art exhibit at the White House during 1998. The Pole is presently erected on the campus of its co-owner, the Oregon College of Art and Craft.
The Plaza will be part of a greenway "chain" paralleling Cedar Hills Boulevard and then proceeding west along Cornell Road, eventually linking up with other pathways on the Tualatin Hills Park and Recreation District Master Trails plan.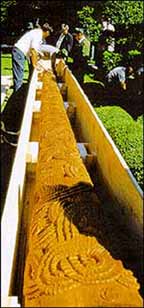 Bartow considers the Pole to be the largest and most emotionally exhausting artwork of his career. It tells the story of the tree, of grief, of people who lose their land. Yet it also speaks of embracing the future. The tears streaking down its face are of blue paint; Oregon's rains will eventually wash them away. It will provide a compelling piece of cultural history, speaking to the neighborhoods, to generations of visiting schoolchildren, to all the citizens of the County as they walk and bicycle through the greenway.
Rick Bartow was born and raised on the Oregon coast and still lives near Newport, Oregon on land that belonged to his Yurok father. His inspirations come not only from his personal life and Yurok heritage, but from his travels abroad and his interaction with other native peoples, including the Ainu of Japan and the Maori of New Zealand.
He uses a traditional crooked knife and many kinds of adzes of indigenous peoples (traded for on his world travels) to give his works texture and shadow. "Working in this contemporary manner allows me to honor the portion of me that is Native American without being phony, without getting involved in things that are not mine and maybe are no longer, or that belong more to people who live more in the tribal situation.
"His art helped him survive Vietnam, post-traumatic stress disorder, and alcoholism. Now, Native American Rick Bartow is becoming internationally known for his paintings, prints, and carvings," said a review in Willamette Week.