Teufel Nursery -- Environmental Solutions since 1890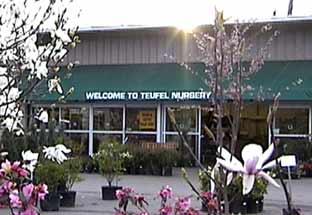 In 1947 Alfred and Ruth Teufel married, a couple of years after Alfred had purchased a 106-acre dairy farm on Barnes Road. They began to build a business selling nursery stock around the country. They started a family in a house on the property that was older than the historic J.Q.A. Young house that stands on Cornell. Linda Teufel recalls, "a big old house, where I lived until second grade."
Alfred's grandfather, Gustav, had started the family business with a holly farm on Miller Rd. which still sends wreaths and other Christmas greens all over the country. For a few weeks during the Christmas season they open up for retail sales.
Ruth took over the business after her husband's death in 1966 and all the kids worked there with time out for college. Then in 1984 Tom became President, and Dick started Teufel Products, which manufactures soil mixtures. Tom soon opened a branch in Seattle which is now growing faster than the Oregon operation.
Now the company is run by Larry, Linda and Tina Teufel. Linda's son Cory works there nearly full time while attending Portland State, so maybe they're aiming at five generations! "We get along just fine," says Linda, who handles the logistics of sending plants all over the country from their farm in Roy. They have their own fleet of trucks for shipping in Oregon, Washington, and Idaho, but use owner-operator rigs for interstate business.
Providing plant stock is just one part of the Teufel enterprise. They have a large and growing landscape business, which offers design, construction and maintenance for large and small business and residential customers. The Seattle branch does all the construction and maintenance work for the large Microsoft campus in Redmond. "They're very particular," says Linda, "and they watch every penny!"
Closer to home, Teufel is landscaping many of the highway margins in our area, including work on the Camelot interchange at Sylvan (the latest segment of the improvements to US 26). To reduce maintenance and chemical use and improve plant survivability, they use native plants wherever it's feasible. They put in the bio-swale plantings in the OMSI parking lot, and have provided design, construction and maintenance service for many of the large industrial campuses in Washington County. The design team works out of a newly remodeled office in the large building on Barnes, and consists of two landscape architects and a designer.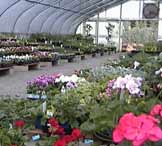 Last year, they opened for retail sales at their Barnes Rd. location, and they're finding a receptive clientele for the high-quality plants that have previously only been available to the wholesale trade. They carry everything from groundcover to shade trees, and have a good selection of native plants and a vast collection of ornamentals. In addition to plants, they have a garden store which offers professional grade tools and other gardening necessities.
Washington County's long-range plans call for residential and commercial development where the Teufel Nursery now stands. The Beaverton School District recently "condemned" a parcel for future school development. But Linda states firmly that, "We will continue to stay open as a nursery." Get in there and buy some plants -- it's spring! http://www.teufel.com