Sunset High's Special Education Program needs your help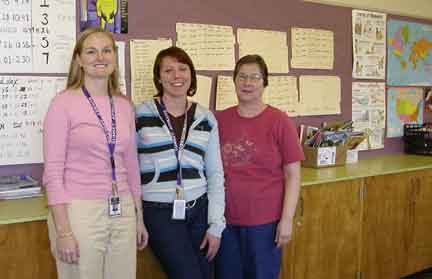 Carol Damm, Tracy Ramberg and Elise Guest teach Special Ed students at Sunset High
Tracy Ramberg, a Special Education teacher at SHS, says, "We have a lot of students in our program who are from lower socio-economic standing. Many of these students are not able to afford school supplies, school clothes, gym clothing, etc. In addition we have some students in our department, and in Sunset High at large, who would like to compete in school sports but cannot afford the sports fees ($150 per team sport). Some of the students I work with are very talented athletes, but cannot afford these fees. They miss out on activities that would tie them to the school and motivate them to graduate."
Sunset Special Education is a federally mandated program serving students with academic disabilities, including learning disabilities, emotional disturbance, ADHD, hearing impairment, and communication (language) disorders.
Tracy says, "Each school is able to decide how they are going to run their program. At Sunset we offer English, social sciences, math and study skills/social skills classes. We teach kids to adapt to their disabilities and accommodate for their needs so as to be successful in school and in life. We try to get them on track and then switch them back into general education classes but some students have to take one or two classes with our department for the duration of their high school careers.
Tracy says there has been more than one student who began their high school career at other schools, only to fail 50% of their classes. After enrolling at Sunset and taking resource classes, most of these students are able to learn the curriculum and pass their resource classes. Many continue their success when enrolled in the general education classes.
The program can use donations of school supplies, new or lightly worn clothing, sports uniforms, and especially money for sports scholarships. Donations can be made through the Sunset High Boosters Club – be sure to specify it's for the Special Education Program. For more information call the school at 503-259-5050.