Teufel Development update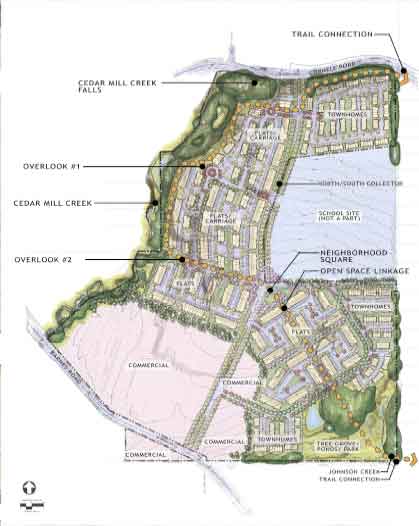 Conceptual drawing of Teufel Nursery development
On April 19, 2004, Polygon Homes and MGH Associates will hold another neighborhood meeting to discuss their plans for the Teufel Nursery property. The meeting will take place at 6 pm in the Community Room at the Cedar Mill library, and it's open to all interested persons.
At the last community meeting on March 9, the conceptual plan for the development was presented to a roomful of residents, including neighboring landowners. Many questions were posed, from concerns about density and impacts on traffic to design issues and preservation of streams. If the permitting process goes smoothly, development is expected to begin this summer at the north end of the property.
The development will include a mix of townhouses and apartments, which will all be offered for sale. Commercial development is not expected for at least five years, so the Teufel Nursery Store will remain where it is for now.
A "green street" will connect the site from north to south providing car-free travel for cyclists and pedestrians. A public plaza is planned for an area at the southwest corner of the Beaverton School District property. Trails will connect the north end of the development with the western boundary on Barnes and the southern edge of the property (also on Barnes).
" Northwest Lodge" is the design theme for the development, paying homage to the pioneer history of the region. Extensive plantings will recall the nursery, and several large trees will be preserved. Overlooks will be developed above Cedar Mill Creek for viewing and as places to gather.
Cornell Road adjacent to the property will be somewhat realigned and widened as part of the development. Some area residents see this as an ideal time to get Cedar Mill Creek out of the culvert by building a bridge. This will be an expensive project and not lightly undertaken, but environmentalists and creek-lovers hope it can be incorporated into the plans.
The conceptual map is available on the Cedar Mill website at cedarmill.org/teufel. More information will be available on the site soon.