Apollo Pools and Billiards
Some people are surprised to think that there are any private swimming pools in our area, but there are enough around to keep Apollo Pools in business since 1967 in Cedar Mill.
But because of Washington County zoning and the way new houses are being built, they're getting scarcer. "People are building these big houses on smaller and smaller lots, so there's no room to put in a pool," says Terry Johnson, Vice President. "There are a lot of spas going in, and they're including big 'bonus' rooms, so the indoor home recreation business is doing very well."
Apollo Pools was started by Norman and Betty Shaw in 1967. The business was named for the Greek god, who was said to have had a swimming pool. The original location was on the west side of Murray Road where the Sunset Highway now runs. When an onramp was constructed on their site in 1990, they built at the current location at 13306 NW Cornell.
Norman and Betty's children, Scott Shaw and Dana Shaw Johnson began working in the store when they were young. Norman passed away in 2001, and Scott is now President and runs the parts and repair section of the company, located in a separate, adjacent building to the west. Terry joined the company in 1972. He used to work for the Forest Service, but when Dana became pregnant with their first child, "she didn't want to go out and live in the woods," Terry remembers.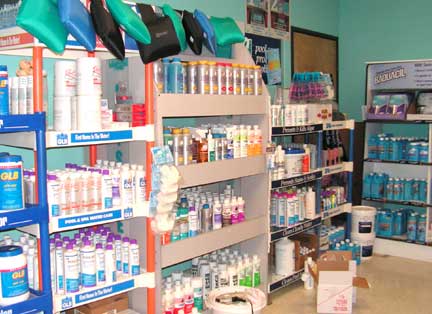 They sell Doughboy above-ground pools, pumps, filters, heating accessories and parts, along with pool toys and games, and a complete range of chemicals. They work with an outside installer. They used to maintain a service staff but found it was hard to retain people they trained.
They added billiard and pool tables in 1982 as a winter business. It's now grown to be an equal split in terms of profit. They also carry a broad assortment of gaming tables, darts and dart boards, and supplies and accessories for all types of indoor recreation. "Poker got very big last year, but it's tapering off a bit now," Terry mentions.
The second floor was remodeled in 2001 as a display area for pool and billiard tables, lighting and accessories. "We were the first store that Brunswick selected for their Pavilion display," Terry mentions. There are still only 19 Pavilion stores around the country. The selection of pool cues stretches along one whole side of the large area, and the display includes traditional and high-tech tables which can be ordered in numerous variations of finishes and colors.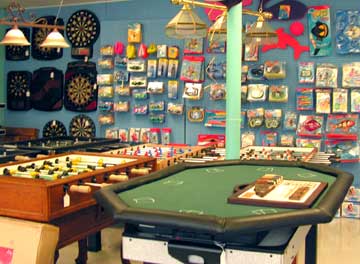 They used to sell a lot of hot tubs (spas) but only carry one high-end line now. "There's so much competition from the discounters and big-box stores that it's just not profitable," Terry says. "But when people have problems they come to us. We have the expertise and the products to solve mechanical or chemical problems for people, which the big stores can't provide. They don't really provide any support for their products." Apollo's customers come from all over the Portland metro area and Vancouver.
Pool and spa owners used to have to maintain a whole chemistry set of beakers, tubes, reagents and droppers, but now test strips are available that show chemical balances instantly and without special equipment. It's become a lot easier to maintain proper chemistry because of easier-to-use test strips. But customers still bring in jars of "problem" water from their pool or spa for diagnosis and there's a whole room devoted to the chemical "prescriptions" for solving these problems.
Because of the wide variety of spas on the market, helping customers solve mechanical problems can be challenging. "Figuring out what people have is the difficult part," Terry explains, because spa and pool manufacturers have come and gone over the years. The more information the customer can bring in about their product the better. We can probably help you fix it as long as we can figure out what you've got!"
One of their challenges is letting people know that their products are competitively priced. "People think that because we're a small independent company that our prices will be higher. Check us out - we may be more competitive than you think!" says Terry.