Verizon rolls out fiber-optic in Cedar Mill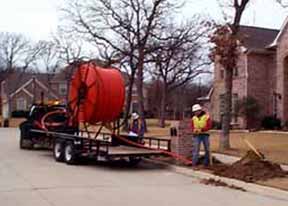 Crews are already working in some of our neighborhoods installing "fiber-to-the-premises" or FTTP. This technology uses hair-thin strands of fiber and optical electronics to directly link homes and businesses to Verizon's network. The new network replaces the traditional copper-wire connections and will "unleash a range of advanced communication services" according to Verizon. Eventual offerings will include HDTV movie downloads in minutes.
Verizon is one of the first major telecom companies to begin using fiber optics to connect homes and businesses on a widespread scale. Our area is among Verizon's first FTTP markets in the Northwest. By late summer the company expects to have all of Somerset West upgraded. This "exchange" encompasses everything from 185th east to the county line and north of the Sunset Highway.
The fiber cables are being installed with advanced drilling equipment that only requires minimal excavation and thus minimal disruption to roads. It takes only a few days to install the cables into a neighborhood. Once the cables are installed in the street, additional cabling to homes will occur when a customer orders the service.
Three tiers of Verizon "FiOS" internet service will be available to customers in the newly wired areas, ranging in speed from 5 Mbps to 15 Mbps and in price from $34.95 to $179.95 as part of a calling package. Current DSL contract customers will be able to convert their contracts to FiOS at a pro-rated cost.
The FTTP network will "provide customers unmatched network reliability, incredible speed and limitless potential for voice, data and video connections," said David Valdez, Verizon's vice president of public affairs and policy in the Northwest. "We believe our FTTP project will stimulate economic development and help convince companies and people that Washington County is a great place to live and do business."