Thompson-Saltzman intersection finally gets straightened out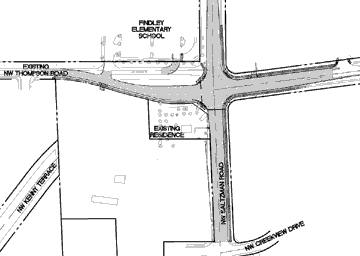 Engineering plans for the realignment
The jog at the intersection of Saltzman and Thompson roads in northeast Cedar Mill will finally be remedied after much discussion and neighborhood involvement.
The new alignment will cut a corner off the small dairy farm at the southwest corner of the intersection. Originally the project was to include the removal of the two 90-degree turns west of the Arbor development by routing traffic through the development, but this portion of the project is being deferred by Washington County until a later date. Local residents filed an appeal to the decision to limit the project, but the County hearings officer decided in favor of the county.
Construction is scheduled to begin later this month, and should be significantly completed by Labor Day to minimize impact on Findley Elementary. Work will be accomplished between 8 am and 5pm weekdays.
" Construction zone speed limit signs and warning signs will be posted, and lanes will be restricted, but there will never be a lane closure," says Matthew Costigan, Project Engineer.
A new traffic signal will be installed, as well as new street lights, and there will be crosswalks at all four "legs" of the intersection.
Costigan says, "It's going to be a construction zone, with dust, noise and delays, so please be patient. If there is a problem that I should be aware of, please contact me at 503-846-7825 or by email at Matthew_Costigan@co.washington.or.us