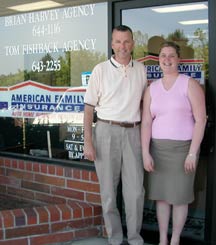 Brian Harvey and Emily Shaffer
in front of their office on Saltzman
The Brian Harvey Agency
Since 1999, Brian Harvey has been offering the home, office, life, business and health insurance products of American Family Insurance from an office in the Cedar Mill Village Shopping Center (at the southwest corner of Barnes and Cornell). He shares office space with Tom Fishback, another American Family agent.
" I get the most job satisfaction when I can help someone to fill a real need. For example, helping a young father to realize how important his income is to his family. I can help them get the coverage they'd need if something happened," says Brian Harvey.
" Some agents just come in a couple of hours a day. It's possible to work that way, but that's not my style. I like to spend time with my clients so I can really determine their needs and give them the most appropriate coverage. I like to review each policy once a year, at least, because clients' lives change, and sometimes they don't think about the impact that has on their insurance coverage. Often people don't know if things have been done wrong until there's a crisis," says Brian. "I try to help them avoid that by checking regularly on their situation."
Born and raised in Salem, Brian got a degree in Finance from the University of Oregon, and went to work in commercial banking. He worked in branch banks, doing what he enjoys – working with people -- until "mergers and acquisitions" brought him into a strictly office situation. "I changed careers because banking changed. It wasn't possible any more to deal directly with people, and that's what I like. So I joined American Family. I was trained at the Lake Oswego office, and then opened up my office here."
He's built up his agency primarily with local customers. He likes being part of a community. This is reflected in his current tenure as President of the Cedar Mill Business Association.
He enjoys the chance to meet other business owners in the area, and share information with the business community. He's proud of recent programs on Business Recycling and Burglary Prevention, and recalls the visit to the TVF&R fire station, where the group learned about safely maintaining and using fire extinguishers, among other topics.
He says his biggest challenge is to keep the business growing, and to keep himself moving forward. "You have to keep reinventing yourself or you get stale. There's a lot of people in the insurance business who seem to operate on automatic pilot. I avoid that by being involved in the community, and by really listening and working with my clients." He's required to take continuing education, which he enjoys. Some classes are packages, online and otherwise, but he recently took a course taught by local auto body repairers, teaching agents about the realities of body work – why it costs several thousand dollars to repair a fender, for example!
Brian and his wife, who got together at UO, live in Hillsboro with their daughter, who's headed for UO in the fall – what a bunch of Ducks! -- and his son who is in middle school.
He's very ably assisted in the office by Emily Shaffer, who's been with him for 3 1/2 years. She's also licensed so she can answer questions and deal with many of the issues customers need help with. Before working with Brian, Emily took general education courses at PCC Rock Creek. She also enjoys the personal contact her job requires. "It's fun to get to know people. I get to meet a lot of people here, and I like that." She claims she's only organized in the office, but she does a good job keeping track of everything and keeping the work flow smooth.
Brian is proud of his association with American Family Insurance. "It's the 9th or 10th largest home and auto insurer in the US even though it only operates in 16 states," he states.
Brian would be happy to have you come into the office to discuss your insurance needs. "We are open Monday through Friday from 9-6, and we can also arrange to meet outside these hours. We want to accommodate our customers."