Next Peterkort development takes shape

Elevation rendering for townhouses at Peterkort Woods
Renaissance at Peterkort Woods is the next phase of the Peterkort residential development slated for construction in Cedar Mill. The 223 units of "upscale townhomes" will be built on approximately 20 acres in the area east of Valeria View, the road that links Barnes Road into the current Morrisette subdivision (see map). Renaissance Development of West Linn (renaissance-homes.com) will build in five phases during the next four years. The first phase will consist of 42 units, an outdoor pool and spa, and a clubhouse, which will be used as a sales office until the units are sold.
The Renaissance website says, "This community will feature village units as the core, forest units around the perimeter backing preserved open space." Prices for the units, which will all be for sale, range from "the mid $200s up to as much as $600,000 for the premier forest units with top-of-the-line packages," according to Renaissance president Randy Sebastian. "These will be really beautiful buildings in the Northwest Lodge style," he continues. Timber, stone, and other natural materials will help create the look. Renaissance already has a waiting list of "priority interest" customers. Call Kim Whitman, VP of Sales & Marketing, 503-557-9100 for more information.
The property will be developed under the Washington County Master Plan, according to Marty Sevier, of MLS Associates, who has been working as a project consultant with the Peterkort Corporation for years. "Mayor Drake has promised us that he will never force us to annex into Beaverton," says Sevier. "We will look at annexing into Beaverton when it's appropriate."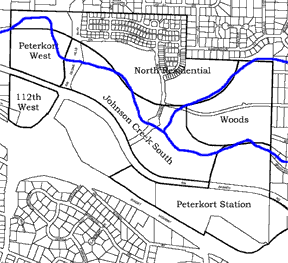 "Woods" is location of new development, Johnson Creek's trbutaries shown in blue
The first public hearing for the development was held on May 20, and a decision had not been issued at press time. The application process is expected to be finished around the end of July. "Renaissance wants to have models open next spring," Sevier notes. "We plan to start building this summer," Sebastion mentions.
Beaverton submitted a letter to the hearings officer requesting connectivity to Morrison and Taylor streets as part of the development. Beaverton spokesman Joe Grillo says these streets need to be opened up to prevent all the traffic from flowing onto existing streets. (Taylor connects to Leahy Road to the east.) "There won't be any connectivity in the near future, because these roads are not up to standard at this point," says Washington County planner Al Boesel, who has been working on the project for the County.
The Renaissance property is split by two branches of Johnson Creek. Renaissance is only purchasing the developable land. This "sensitive area," still belonging to the Peterkorts, is expected to be transferred in some way to Tualatin Hills Park & Recreation District (THPRD). THPRD planner Pat Flanagan says they will likely put a trail somewhere in the streamside buffer area or nearby. It's not been decided yet whether the land will be developed as a park or left as an undisturbed wild area.
" We've been working with THPRD all along. They don't want half a stream," says Sevier. "It's a matter of timing. When both sides have been built out, we can look at the park issue."
Tri-Met has no plans to develop transportation access to the area, but spokesperson Mary Fetsch likes the idea of building some kind of pedestrian access to the nearby Sunset Transit Center.