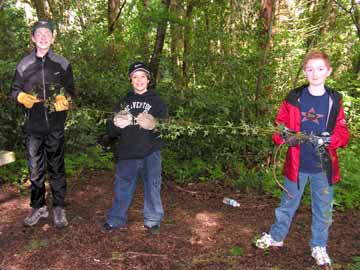 Scouts Brian Whitney, Brian Farci and Jordan Barducci display their catch
Cedar Mill Park project continues
On May 19th, twelve Boy Scouts from Troop 208 spent three hours of a cloudy morning while they were off from school, pulling ivy at Cedar Mill Park. The boys got into the spirit of the effort by competing to see who could pull out the longest vine. Several specimens over 20 feet long were proudly displayed before being bundled off in the tarp.
This is part of an ongoing effort of Rock Creek Watershed Partners and Tualatin Hills Park & Recreation to clear invasive species from the natural area of one of Cedar Mill's few parks. The scouts finished clearing the area at the upper end of the park that had been started during the May 7 No Ivy Day cleanup. More sessions are scheduled for June and July (see sidebar), in hopes of getting the park cleared up in time for the Concert in the Park on August 2nd. The lower area of the park is really choked with ivy, and has a number of threatened trees. This is where future sessions will take place.
Cedar Mill Park Ivy Pull
All events are on Fridays and will go from 9 am-noon. Free snacks and drinks; tools and gloves provided
Meet at the picnic tables near the lower parking lot
June 17
June 24
July 8
July 15
July 22
Cedar Mill Park is located at 10385 NW Cornell Rd., just west of Cedar Mill School
Call 503-629-5799 or email Virginia Bruce for more info
Andre Farci is an Assistant Scout Master who has a twelve-year-old son in the troop, and is running a clinic on the Citizenship in the Community Merit Badge. Andre explained, "As part of one of their merit badges required for the Eagle Scout badge, our scouts are learning a lot more about our local community. And through their volunteering efforts, they're also making a difference – enhancing the natural environment of our parks by removing invasive plants such as ivy. "
Troop 208 of the Sunset Trail District currently has 109 Boy Scouts from the Cedar Mill / Terra Linda community. The troop has been developing youth leaders for more than a quarter of a century and most recently has been setting records in its devotion to service. In 2004, Troop 208 logged over 2700 service hours and in 2005 has already logged 1100 hours, supporting projects such as the Oregon State Parks, Tualatin Hills Parks, Beaverton Schools, Homeless Shelters in Portland and Tigard.
Participating Scout Brian Whitney says, "My greatest motivation for helping out in the community is knowing that the outcome will be great; not only will it help us, but it will help those around us, too."