Logo Portland
Ten years ago, as President of the Cedar Mill Little League, Bonnie Kost was having trouble finding a place to get team awards jackets embroidered with the League logo. "How difficult can this be?" she thought. She had sewed all her life, and figured she could get an embroidery machine and do the jackets herself.
After recovering from shock at the cost of the equipment, she purchased a single-head machine and set up a home business. However, she says, "I could see that it would be impossible to manage it around my home and family life and be serious about it. I moved into my current location early in 1996. The business just grew after that."
On the walls of her small shop on Cornell are samples of logos and embellished garments for many Cedar Mill companies and organizations. She gets most of her business by word of mouth from satisfied customers. She says the Cedar Mill community has been very supportive of Logo Portland. She counts many of the residents, youth sports organizations, commercial businesses and schools as long-time customers. But her business also includes almost all of the Metro League schools in some capacity, and several private schools and colleges, and customers from all over the state of Oregon, including Bend, Gold Beach, Salem, Corvallis and Philomath, as well as national accounts in Wisconsin, New Jersey, Washington and California.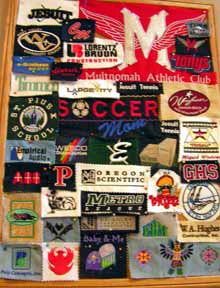 Kost employs two other women full-time, Cathy Talavera, who has worked for her for five years, and Irma Diaz who has been with her for a year. Both women had previous embroidery experience before joining Logo Portland.
The large, automated multi-head sewing machines in the shop are controlled by computer programs. The machines are expensive but durable. But the computer software requires frequent updates and they use four different software packages to cover all the different types of embroidery.
Software is my biggest expense," says Kost. "It runs around $20,000 for all of it." There are three machines, one with two heads, one with four and one with six heads. The business recently added a cad cutting machine to streamline the "tackle twill" and appliqué jobs.
"Most of our customers come in with some kind of logo," she says. "We can help them clean it up, or add lettering, but it's most successful when they have their artwork already." Then the work begins for Kost, who must analyze the design and basically program each stitch – color, direction of the stitches and more. Sometimes a design must be built up in layers, so that certain features stand out from the background.
Customers can select items to be embroidered from catalogs and from a few sample garments she keeps in the store. "Most of our garment sources are one or two-day delivery. Occasionally, either with a specialty item or a size or color out of stock in Portland, Seattle or Reno, garments come from across the country. Our favorite hat company is in Eugene. We do value local distributors and try to order locally as much as possible, but in the end, most customers are very specific about what they want and it cannot always be purchased locally," Kost explains.
One of the most unusual items they work on are called "trailer boots." These are padded leggings for horses to protect their legs while they're being hauled about in a trailer. The padding is very thick and the material is tough, so they're difficult to work on.
Kost's team takes great pride in the work they do. "Everything that goes out the door must be perfect," she declares. "And we've never missed a deadline." One of their biggest challenges came from the Sunset lacrosse team. "We had to do separate designs on each side of the shorts, 73 pairs or 146 hoops as we call it, and we only had one day. But we managed to get it done in time for them to wear their uniforms against Lake Oswego. And they won!' she remembers proudly.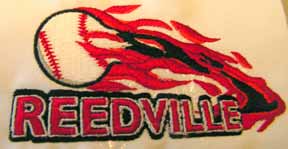 "I still get excited when I can take a complicated design and make it come out right," Kost says. She shows a recent creation for a Reedville baseball team, with several shades of red separated into tiny flames coming off the ball.
Kost has lived in Cedar Mill for 25 years. She loves being a couple of minutes away from home and where her friends, old and new, can stop by to chat. She belonged to the Business Association several years ago, but let her membership lapse when the organization got bogged down in politics. She's glad that her neighbor in the building, Greg Walker of Walker Garbage, convinced her to rejoin. She welcomes the networking opportunities and enjoys keeping up on local issues.
Logo Portland is located at 12847 NW Cornell Rd. Their phone number is 503-644-3344. They're open from 8:30-3 weekdays, other times by appointment. Their website is www.logoportland.com.