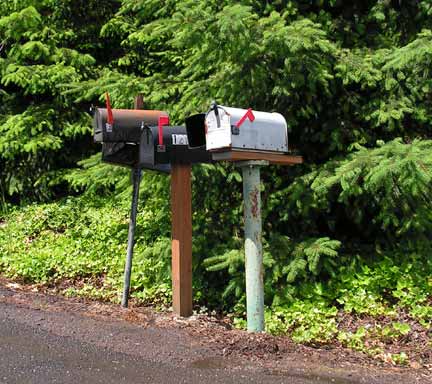 Mailboxes far from homes invite mail theft
Preventing mail theft
A couple of months ago, a Cedar Mill street suffered a rash of mailbox thefts. Thieves used a credit card they found in one of the mailboxes to go out and buy TWO CADILLACS! Another area suffered thefts when someone followed the mail truck around and swiped all the packages that had been delivered.
These stories make us think about the importance of mailbox security. Many of our homes are set back from the street, and most times residents aren't home when the mail is delivered. We asked Doreen Rivera, Crime Prevention Specialist for Washington County Sheriff East Precint, to give us some tips on mail safety.
Do not mail bills or other important documents from a standard type mailbox. Always use a blue drop box or locking mailbox.
A red flag up is a signal from blocks away that there is new mail going out.
Never send cash or coins in the mail. Use checks, money orders or pay by phone transfers or on the payees' website.
Ask your bank to have check re-orders and credit cards delivered to them instead of mailing them to your house.
Shred all credit card offers that come in the mail. The national credit bureaus offer a toll-free number that enables consumers to opt-out of all pre-approved credit offers with just one phone call. Call 1-888-5OPTOUT (1-888-567-8688) for more information.
If you do a lot of business by mail, use a P.O. box or a locking mailbox.
Have your local post office hold your mail while you are on vacation or absent from your home for a long period of time.
If you do not receive a check, food coupon or other valuable mail you are expecting, contact the issuing agency immediately.
If you see people opening and looking in multiple mailboxes, call 911 immediately.
Consider starting a Neighborhood Watch Program. By exchanging work and vacation schedules with trusted friends and neighbors, you can watch each other's mailboxes (as well as homes). If you observe a mail thief at work, you can call the local police immediately and then the nearest postal inspector.
If you believe your mail has been stolen, report it immediately to your local postmaster or nearest Postal Inspector. You will be asked to complete PS Form 2016, Mail Theft and Vandalism Complaint. Analysis of Forms 2016 helps Postal Inspectors in determining if the theft of your mail is isolated or part of a larger mail theft problem in your neighborhood, and in locating and apprehending mail thieves.