History in The News


Cedar Mill's "Growing" Businesses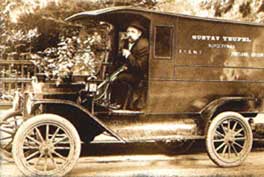 Gustav Teufel delivering plants in his 1913 Model T truck

Cedar Mill has been the home of a variety of retail and wholesale nurseries for many decades. Our good soil, excellent climate and proximity to transportation have made the area ideal for growing a variety of plants and flowers.

From the days when the pioneers received land grants from the government, Cedar Mill acreage has been broken into smaller parcels as original owners and settlers sold off portions of their land. First came loggers, living off the native forests they found in the area. Then as the land was cleared, subsistence farming was the order of the day. Before long, farmers began to sell their surplus produce to the growing population in Portland. Some farmers turned to the nursery business to supply florists and gardeners in the area.

Increasing population pressure is bringing about the next phase in the evolution of Cedar Mill land use. Our proximity to Portland and transportation, through MAX and Highway 26, has brought increasing demand for the residential and commercial development of the former nursery acres.
Teufel
In the 1880s, the great-grandfather of Cedar Mill's nursery business, Gustav Teufel, arrived in the Pacific Northwest, one of many German immigrants to come to the area during that time (see "The Germans" in Cedar Mill History). He began a landscaping business serving the new homes being built in West Portland. Gustav's love of plants led him to start a small nursery next to his home near Miller Rd. that eventually grew into his main business (Teufel Holly Farms). Both the original home and greenhouse are still standing today on a portion of over 500 acres of Teufel Nursery land in northwest Oregon.
Gustav's grandson Alfred settled in Cedar Mill in 1945 when he purchased approximately 100 acres between Barnes Rd. and Cornell, including the property where the current Teufel Retail Nursery is located. Shortly after acquiring the tract, the young man married Ruth Guerber of Helvetia. The couple grew tomatoes along with nursery stock and holly on the fertile former dairy land during World War II. In 1955, the family established their nursery brokerage firm, Alfred Teufel, Nurseryman.
The business consisted of a nursery, including winter holding houses, a nursery equipment supply warehouse and a holly farm. After the death of Alfred and Ruth, the Teufel children, Larry, Linda, and Tina, took over the operation. Today the company has several major divisions : Nursery Production, Wholesale Plants and Supplies Sales, Retail Plants and Supplies Sales, and Landscape Construction and Maintenance (see teufel.com). They employ over 300 people and serve customers all over the Pacific Northwest and beyond. They began selling their nursery stock to the public at their Barnes Road location in 2002.
The Barnes road property is now slated for development into a community of upscale townhouses and retail over the next five years. (see Cedar Mill News, April '04).
Gustav's descendants went on to establish several other nursery businesses in the area, including Teufel Products, Inc., Oregon Roses and Dinihanian Floral Supply (see below).
Peterkort
In 1923 Joseph and Bertha (Teufel) Peterkort (Gustav's daughter) started a modest wholesale flower business with one greenhouse on two acres of land. They acquired neighboring property as it became available to expand their specialized rose, orchid and holly business along Highway 26. The Peterkort corporation now has 250 acres in the area north of the Sunset Highway. There are still several large glass paneled greenhouses observable to passing freeway motorists. J. Peterkort & Company's wholesale flower business has grown into one of the biggest greenhouse operations in the state of Oregon.
The Peterkort website states, "In 1997 Washington County's Comprehensive Plan designated the property a Transit Oriented Development to support Metro's 2040 Functional Growth Plan for the Urban Growth Boundary. The agricultural use of the land is now destined to support the needs of the region as an urban mixed-use transit-oriented development." The Sunset Transit Center is on land that was half-sold and half-donated to TriMet by the Peterkorts, and they have developed office buildings adjacent to St. Vincent's Medical Center, the Peterkort Towne Square, and several housing developments are in various stages of completion in the area north of Barnes. They recently hosted a meeting to present their Master Plan for the area (see peterkort.com).
Dinihanian
Gustav Teufel's son George continued the family holly business, developing his own holly variety, called "Teufel's Hybrid," which is well-suited for the floral business–holding its berries and color during shipping. George married Lillian Burkhardt, a second generation Swiss. They raised two sets of twins, one of whom was the father of the current Teufel owners, Alfred Teufel. His twin Rosalie met and married Vahan Dinihanian, a third-generation Persian rug dealer from Portland. They acquired acreage on Cornell, just north of the Sunset Highway (15005 NW Cornell Rd.) and planted holly, starting Dinihanian Holly Farms. Their two children, Vahan Jr. and Lillian, now own and operate Dinihanian Floral Products, Inc. (www.dinihanian.com), growing and selling over 100 different items including specialty cut flowers and decorative greens. They are open to the public in November and December, selling decorative Holiday wreaths, greenery, and Christmas trees.
And there's more!
Other nursery businesses in the area include Cornell Farms at the east end of town on Cornell, and Schmidt Family Farms on North Saltzman. The Leahy family operated a nursery for many years in the area east of St. Vincent's Hospital, supplying flowers to the Lubliner company. Cascadian Nursery on Thompson Rd. has recently been demolished for more housing.