Sunrise Bagels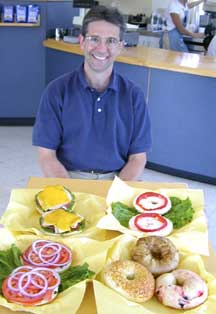 Scott Collins and his beautiful bagels

I work in a home office, so when I need to see a client I often ask them to meet me at Sunrise Bagels, in the Peterkort Town Center next to Baskin-Robbins. Talking to owner Scott Collins, I find that I'm not alone. "The drug reps who visit the doctors at St. Vincents use this as their office," he laughs. "A lot of people come here to meet friends and clients. The location is easy to find and there's plenty of parking. We like people to feel at home here. I know most of my regular customers by name. We try to create a friendly environment."

They have succeeded. The atmosphere is usually lively during breakfast and lunch hours, and quiets down mid-morning and afternoon, until they close at 4 pm weekdays. You can get, of course, bagels, and a wide variety of bagel sandwiches and fresh soups, along with a great variety of juices, premium teas, and great Bridgetown coffee and espresso drinks. Prices are reasonable and service is fast and friendly. There's even a kids area with a cheerful mural by the window.

Before opening this restaurant, Collins had worked in the restaurant business for years, mainly in chains, working his way up to district manager at Red Robin. "But you can't run a service business from a desk," he points out. "I was tired of pushing paper, and of going home after a long day and doing reports." He was ready for a change.

He found a small bagel company in Vancouver, Washington that was expanding and looking for partners. Sunrise Bagels had a philosophy Collins liked, and they helped him find a location and obtain a lease. After a couple of successful years, Collins bought them out and now owns the business. Sunrise supplies the dough and other ingredients, but Collins, like other Sunrise owners and managers, is free to supplement the menu with items suitable for each location.

" We don't make New York bagels," he says. "But I've converted hundreds of customers who are from the east coast to my bagels. It's a similar recipe to the New York variety but they're bigger and softer so they make much better sandwiches." This is due to the method they use. Instead of boiling the "proofed" dough, Sunrise uses a programmable oven that has a steam cycle. "That's where the gloss on the bagel comes from ," Collins explains.

The bagels are baked fresh at least five times a day. "There are a lot of sensitive points in the bagel-making process, and if you don't pay attention, you don't get good bagels," Collins says. After the raw bagels are delivered each day, they're proofed (allowed to rise) at room temperature for one hour, and then retarded (refrigerated) for 24 hours. Then they go into a proofing oven until the internal temperature reaches 80°. Finally they're put into the convection oven where they're steamed for two minutes, and finally baked.

What's the most popular bagel in Cedar Mill? "It's the plain bagel," Collins laughs. "But it's closely followed by cinnamon-raisin, then parmesan, sesame, and whole wheat. My personal favorite is the cheddar bagel, and my favorite sandwich is our Chicken Cordon Bleu, with chicken breast, swiss cheese and ham."

Collins is planning a facelift for the store – a new paint job and new flooring. He's considering adding dinner but has yet to find the perfect theme – deli, pasta, barbecue? "The biggest challenge is keeping it fresh. It will always be a bagel place, but I want to expand our offerings."

" I think my proudest achievement, aside from just staying open for six years," he says, "is becoming integrated into the community–really being a part of the life here." They have doubled their business since opening in 1998, and this May was their biggest month ever.

Sunrise Bagels is open from 6:30 am to 4 pm weekdays, 7 am – 3 pm Saturday, and 7 am to 2 pm Sunday.