History in the News
Union Cemetery of Cedar Mill

Traveling NW 143rd you may notice a peaceful plot of land behind a tall row of evergreens between Cornell and Burton on the west side of the road. It is one of a few remaining historic sites of the Cedar Mill community, the Union Cemetery of Cedar Mill.
Many members of Cedar Mill's pioneer families found their final resting place in Union Cemetery. The origin and early history of the cemetery located on NW 143rd is surrounded by doubt, although burials probably began between 1856 and 1858. It is uncertain who was the first pioneer laid to rest there, and several graves may have existed before the land was formally designated as a cemetery.
While Cemetery Association records indicate the first burial was of 13-year-old Ruth Barton in 1857, her brother Joshua was also buried in the Barton family plot. Joshua, age 16 had died the previous year of a gunshot wound, however his remains may have been transferred from earlier graves.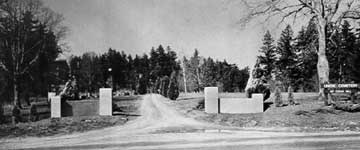 Union Cemetery of Cedar Mill sometime around 1972
Photo courtesy of Hazel Young
It may be that Archibald Walker, age 23, was actually the first to be interred at Union Cemetery in 1858. In that year, donation land claim owners Francis and Arvilla McGuire donated 2.67 acres to a five-man committee for "…use of common schools, orthodox churches and burying ground for the consideration of one dollar…" In 1860, John and Elizabeth Campbell donated another 1.2 acres "…for the use and benefit of the public for a School House, Burying Ground and Meeting House to be free for all Orthodox religious societies to worship in…"
In 1878, the acreage was legally transferred to the directors of School District # 6. The directors managed the cemetery until 1903 when the burial ground was incorporated under State law and named Union Schoolhouse Cemetery. Gravesites were sold for $1.00.
Over the years, the cemetery grew to include 5 acres. In 1949 Union Schoolhouse Cemetery officially adopted its present name, Union Cemetery of Cedar Mill. Maintenance of the grounds has been provided by association members and the Cedar Mill Garden Club on a volunteer basis. In 1972, Ellsworth Young designed a brick entrance to the cemetery. A cyclone fence has been erected to protect the historic property. Burials may still be arranged at the cemetery.
Many of the folks who figure in Cedar Mill's history found their final resting place here, including JQA Young and his family. Take a few minutes some day from your busy schedule and take a stroll into the past of your community.