What is Cedar Mill?
In some ways you could more easily approach this issue as "What Cedar Mill isn't." It isn't a city. It doesn't have its own zip code. Its only official designation is "a census-designated place." It's part of "unincorporated Washington County."
What Cedar Mill emphatically is, is a community. We have a long history for Oregon (since 1847). We have most of the shopping and services people need for everyday living. We have the Cedar Mill Community Library, the largest non-profit association library in the state. We have a rich environmental legacy of streams and forests, and a lovely waterfall. The Cedar Mill Town Center Plan has the potential to create an even more cohesive and attractive community as new development occurs along Cornell.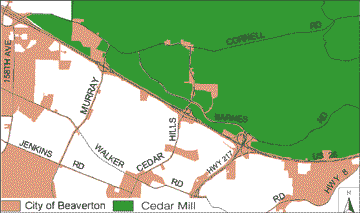 Beaverton has long-range plans to annex us. Since 1985, Washington County has been pursuing a policy that would get them out of the business of providing city services to unincorporated areas.
City of Beaverton Planning Services Manager Hal Bergsma confirms this, saying, "the county is urging us to look at creating annexation plans. This would take a majority of the combined vote of the citizens of Beaverton and the residents of the proposed annexation area. There is a lot of work to do before this happens. We have to complete an Urban Services Agreement with Washington County and other service providers in the area, describing how services would be provided. After that is done, we would consider preparing annexation plans for the unincorporated areas around the City, including Cedar Mill. At this point, we 're not sure if or when that will happen."
It is current Beaverton policy to annex roads when appropriate to connect the City to properties wanting to annex. When Don Morrisette's Venture Properties developed the Peterkort Village residential project on the east side of Cedar Hills Boulevard north of Barnes Road, the entire property was annexed into Beaverton to take advantage of lower building permit fees. At the same time the city annexed Barnes Road all the way to Cornell. Beaverton has an agreement with Clean Water Services that transfers ownership of sewer and storm drain pipes less than 24 inches in diameter to the City when annexed. Now, when anyone wants to tie into the sewer within the street right-of-way to develop property along Barnes, the City's policy is that they will first need to consent to annex the property into Beaverton.
" Part of the reason we annex roads is because the police like to be able to travel within their jurisdiction to reach the areas they serve," says Bergsma. "That way, if citations are issued, the case can be handled by the Beaverton Municipal Court rather than going to the county courthouse in Hillsboro. "
Bergsma admits that annexation isn't such an attractive alternative to most owners of single-family homes, because it would mean higher property taxes. "We provide a higher level of policing than is available through the County," he states. "But it's not enough to make a difference to a lot of people. It 's generally the developers who find it beneficial."
There's not much interest in incorporating Cedar Mill as a city. "We looked into it several years ago, but found it involved a tremendous amount of work," says Elissa Ryan, a local attorney who has been active in the Cedar Mill Business Association. "Aside from defining us as a city, there just aren 't many advantages."
So it remains up to us, the residents and business community of Cedar Mill, to continue to define the nature of our community. Whether we become part of Beaverton or not, let 's hope we'll always be Cedar Mill.