Featured Business

A lot more than copiers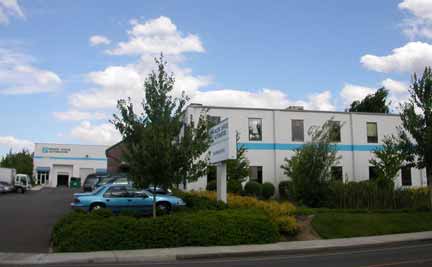 Cedar Mill hosts a number of non-retail businesses along Science Park Drive in the southwest corner of the community. One thing that sets Pacific Office Automation apart from the rest is that it's a family-run business owned by someone who lives in the community.
Terry Newsom founded the company in 1976, when he purchased the Portland branch of APECO, a financially ailing photocopier company. Originally called Pacific Photocopy, the firm moved from a Tigard location to their current main building at 14335 NW Science Park Drive in 1981. The name was changed in the mid-80's to reflect an expanding product line. Terry's sons also work for the company: Brooks Newsom is the Director of Marketing Services, and Fall Newsom is the Color Graphics Manager.
A large part of the company's growth has occurred through the purchase of other companies. Some of their product lines were acquired by buying the businesses that previously handled them. Fall Newsom says, "In the copier industry, the manufacturers split up the country into protected territories for distributors, so we have exclusive agreements to sell products in designated counties and areas."
The company's three divisions, Sharp, Toshiba, and Minolta, each have their own sales and service staff and each is run as a separate, competing business. "The manufacturers expect that you will move a certain amount of product when you have a territory, so we need to have our sales force be competitive. We've discovered, though, that our people aren't competing against each other that much. More often, for example, the Minolta guy will add a customer that the others didn't get to," says Fall.
" Ninety percent of our business is leasing. Companies don't really want toown their copying equipment, because it depreciates quickly. With leasing, they can get an upgraded system without worrying about getting rid of the old equipment, and for very little more cost," Fall explains.
One of the services Pacific Office Automation offers is what they call "Facilities and Asset Management." This is a comprehensive approach to the information flow in an enterprise. It can involve everything from traditional document production to electronic forms, custom software, and business consulting. "We can go into a company and evaluate the way they do things, and end up saving them money overall. Even though they may spend more in 'hard dollars,' they get increased capability, better productivity from their workers, reduced waste and storage costs, and end up offsetting their expenditure by savings in 'soft dollars', Fall asserts."
Their industry is experiencing a tremendous rate of change now, because of the integration of computer and networking technology. "Scanning is becoming an increasingly large part of our business," Fall mentions. "We have automated systems that can handle stacks of documents. A company can scan in all their old records and turn rooms full of filing cabinets into a few CD's, which are searchable and therefore much more useful to the business."
Pacific Office Automation currently employs over 400 people in thirteen facilities, from Seattle to Medford, and just recently added facilities in Phoenix and Tucson. Nearly a third of their employees are "techs," the folks who keep the equipment running at their customers' sites. They have their own training facility in Portland to keep their people up-to-date on the technology. "We send our own trainers through extensive factory programs, so they're certified to teach the different systems. Then they train our techs," says Fall. "The manufacturers also do a good job of keeping us abreast of the changing technology. They provide short courses over the internet so everyone can stay up to speed."
Finding good employees is one of the challenges for this business. "A lot of our technicians, both men and women, have had training in the military," Fall mentions. "Because the industry is increasingly about software, some of our people have a background in programming. Some have earned Associate degrees in electronics before coming to us. We work hard to develop our employees, with constant training and special incentives."
The Cedar Mill News is printed on one of Pacific Office Automation's newer machines. We provide a digital file which is sent through a RIP (Raster Image Processor) which translates the digits into images, to a color copier which prints double-sided and even folds the paper. It's quite a change from the old days of pasteup and printing presses.
If your business could use some help with information or document handling of any kind, Pacific Office Automation would be glad to consult with you. Call 503-601-2228 for more information. Their website is pacificoffice.com