Bleachers Bar & Grill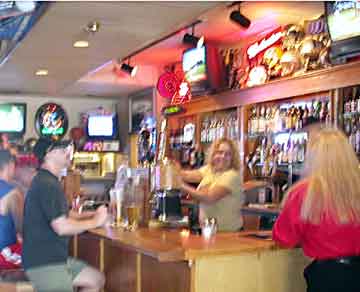 " When I moved into this space, everything else was vacant," says Terry McGowan, co-owner of Bleachers Bar & Grill, located in the triangle shopping area at the southwest corner of Cornell and Barnes. "Only the Dairy Queen was open. That was 15 years ago." At the time, McGowan was working for the Maletis Brothers' Columbia Distributing. He had worked his way up from delivering beer and wine into administration. "I worked with a lot of bar owners, and I decided I could do it too," he says. His partners are his sister and brother-in-law, Patty and Jim Lasell.
Bleachers' central location and friendly atmosphere make it a popular hangout for local residents and businesspeople who stop in to relax after work. "We never have any trouble here," McGowan asserts. "Several of our customers are cops, they feel comfortable here. If anybody gives us any trouble, we just send them down the road."
McGowan lives in the area, and seems to know everybody who comes in.. He and his employees watch out for their regulars. An older couple walked in while I was interviewing him, and were greeted with warmth and excitement because they'd been absent for a couple of weeks. "We were going to come looking for you if you didn't show up this week," McGowan told them.
Bleachers has a full bar and a good selection of local and national beer brands. "We have a different happy hour beer special every night of the week," McGowan says. They also offer two-for-one prices on hors d'oeuvres. Famous on their menu is the B.U.F.F. burger (ask McGowan, he'll tell you what that stands for) which he says is "way better" than "that place with the dirty hats" – it consists of two quarter-pound beef patties, ham, bacon, fried egg and all the trimmings. Another favorite is the turkey enchilada. Their Nachos are hearty and served with a great salsa.
Sports are on the menu too. "We've been the local home for Oakland Raiders fans for 13 years, and we're also the home of local Florida Gators fans. We're planning to open up on Saturday and Sunday morning for breakfast at 9 am this fall for college and NFL games," he mentions. He subscribes to a satellite service to provide the games to his patrons.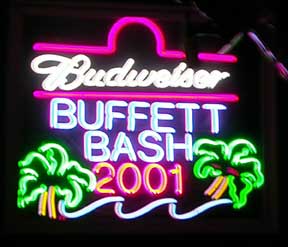 Bleachers is also the local home for "Parrotheads," the fun-loving fans of tropical rocker Jimmy Buffett. "We have big parties twice a year, in March and September, and we bring in a Buffett cover band." He points out signs around the bar featuring past years' Jimmy Buffett parties. The next party is set for Saturday, September 25. Bleachers features live music – mostly rock and blues – about once a month.
Bleachers also puts on a Customer Appreciation Day at Sunset Speedway in Banks, Oregon. Along with Budweiser and Columbia Distributing, they sponsor "Bomber Car" driver Steve Herreid, "and Budweiser puts up a big tent and we all go out and watch Steve race," McGowan says.
McGowan doesn't seem to have any trouble retaining good employees. Bill the cook and Scott the bartender have been there six and eight years respectively. "I only have two rules," he says. "Treat the customers good, and don't steal!" Most of his employees are local folks too.
Bleachers is open from 11 am to 1 am Monday-Thursday, 11 am-2:30 am Friday and Saturday, and 11 am-12 pm Sunday. Happy hour is 2-5 every day, with extended hours on Mondays (6-9 pm) and Wednesdays (7-9 pm). No minors are admitted. The phone number is 503-643-1711.