Growing Pains
Town Center road construction impacts local businesses
While the County promises an improved downtown for Cedar Mill, many local businesses are suffering the area's growing pains. Most of the business people we talked to are optimistic about final results, but several businesses are having trouble seeing through the dust and inconvenience caused to their customers.
Gabby Montgomery, a salesperson at "Baby and Me," says that a lot of their customers stop in while they're out running errands to see whats "new" in the children's resale shop. "But now by the time they get through the traffic, they're so tired and late that they don't stop in." Business in the shop, located in the 7-11 shopping center right at the center of the two construction areas,is down from previous years. "We're trying to hold on but our numbers aren't even close to this time last year. We can't wait for it to be over! " she says.
Several owners complained of damage to signs and other property. "They broke our temporary sign when they moved it," states Jordan Stockton of Cedar Mill Chiropractic. "And they plug into our electrical outlet and use our water without asking permission," he continues. "Sometimes they even block our driveway with their equipment and I have to ask them to move it so patients can get in. We haven't had a new client since the construction began."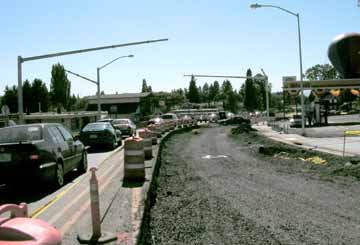 Across Cornell, Terry Johnson of Apollo Pools & Billiards mentions that the contractors tore out the sprinkler system for his streetside landscaping. "But maybe the new landscaping they're putting in will replace it and they'll do the watering," he says hopefully. "Our customers complain, but we have a specialty business so they come in for what they need anyway." They haven't noticed much of a reduction since the project began.
Steve Frame, owner of Cedar Mill Home Theater, is bothered by the noise and dust, but he does most of his business on the phone or in customers' homes. "It will be for the better in the long run. It's going to be nice when the new sidewalks are in," he says.
At the Pet Barn in the Bales Thriftway shopping center, Laurel Hennessy observes, "We have felt a bit of a down turn, but not what we expected. We prepared by offering up extra specials and discounts. We also have a loyal customer base that comes to us for the experience and knowledge of our employees and our customer service. Our closest competitors are PetSmart and Petco, and neither of these offer these services. We also have competitive prices with the "big guys", and most of our customers find this out fairly quickly. In the long run, the road expansion will help us all."
After selling cupcakes to a young customer, Jolene Moore at Evelyn's Bakery mentions that although they have lost some business, the construction workers have become regular customers for their baked goods and coffee. "Our customers have found it pretty confusing. Sometimes they park in the lot next door and walk over!" she exclaims. "But our regulars find a way in."
Dantes Reyes, a partner in SGS Computers, says his customers have been frustrated with the traffic. But the large signs they've recently put up have attracted new customers so business is up overall.
Peter Leonard, Executive Director of the Cedar Mill Community Library, says "The library has not experienced any downturn in use or attendance. Last year, library loans increased by 6.7% and sales in the resale shop increased by 13.6%. We've seen an increase in new residents who are avid library users. Sadly, the library is operating on the same amount of public funding we received 5 years ago.
Many business people were pleased and surprised to hear that the contractor, Robinson Construction, expects the really disruptive work to be done by this fall. The sidewalks and curbs have been installed along most of the north side of Cornell, and the final grading is nearly done. Traffic will be re-routed to the north side while work progresses on the south side. Final overlay paving is slated for October 19 for both sides.
Curbs are in on the north side of the Barnes project, and final paving for that roadwork is expected in mid-November.
Robinson Construction Project Manager Rob Boren and Washington County Project Manager Alexander Sander host weekly project meetings Tuesday mornings in the project office. They invite anyone with concerns about the construction work to join them after 11 am. The office is located next to the State Farm office behind Tillamook Restaurant.