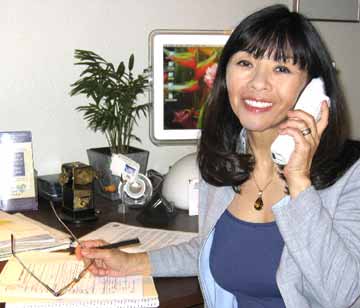 Sharon Inahara enjoys her home business
Living at Home Senior Care
Sharon Inahara and husband, Markus Staib, were motivated to start Living at Home Senior Care when Sharon's mother required more care than family members could provide after major surgery a few years ago. They realized the need for in-home companion care, for recovery patients as well as seniors who just need some help at home.
The entrepreneurial couple, both with successful careers in marketing in Los Angeles and Honolulu, decided to provide a service for seniors in need. "People want to live independently at home for as long as they can," says Markus. "And not everyone has the financial ability or the desire to live in an assisted living facility." They run the company from their Cedar Mill home.
"Baby boomers are caring for aging parents, aunties and uncles, and feeling the crunch of everyday living. With career demands, taking care of children, meals, housekeeping, and laundry, it's a balancing act, finding time to care for an aging parent. The result is stress: a compromised family situation, lost hours at work, and guilt for not spending quality time with their elderly loved one," she explains.
Sharon Inahara was raised in a medical family. Her father, Dr.Toshio Inahara, now retired, practiced vascular surgery in Portland, and headed St. Vincent Hospital as President from 1975-76. Inahara says, "Dad is my mentor – he encourages my growth, and my love for seniors. He consults with me on health issues related to our aging population."
Markus Staib was born and raised in Zurich, Switzerland and handles the administrative and financial side at Living at Home Senior Care, Inc. Sharon heads their Client Services division. "We are currently a staff of 15 and growing quickly," notes Markus.
Living at Home Senior Care, Inc. is licensed by the Oregon Health Care Division and is an affiliate of 'The Senior's Choice'. Providing dependable, affordable and high quality companion care since 2000, The Senior's Choice is the largest network of independent businesses that offer in-home, assisted living for the elderly and the only to boast the Certified Companion Aide program.
Clients range in age from 63 to 103. Services include housekeeping and laundry; errands, transportation and shopping; menu planning and meal preparation; bathing, dressing and toileting; medication reminders; companionship and personal assistance; and pet maintenance and walking.
"Our caregivers love seniors; they are patient and kind, experienced, and trained by our network in senior care. They are carefully screened, bonded and insured; considerate, hardworking, and committed to making a real difference in elders' lives. We exercise stringent standards in hiring, and require random drug testing. All caregivers have a clean DMV record, full insurance coverage and a good vehicle," Inahara states..
Serving greater Portland, Beaverton/Cedar Mill and Hillsboro areas, they provide all levels of service; respite, part or full-time to live-in care. "We are not just for seniors with health challenges, but for those who need help with daily chores or transportation. We can vacuum, walk the dog, take our clients to the doctor or church, or help them in the garden. Whatever their heart's desire! We are affordable and provide a complimentary in-home assessment as part of our service," offers Sharon.
You can reach Living at Home Senior Care, Inc. at 503-432-8300. Website is www.LHSeniorcare.com