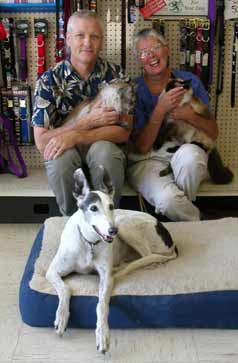 Larry Weisgerber and Laurel Hennessy with their special customer service assistants
Pet Barn offers personal service
A mutual love of animals and need for a change brought Laurel Hennessy and Larry Weisgerber to purchase Pet Barn six years ago. Laurel says that after years as a manufacturer's representative for Iams Company and then as a wholesale distributor for another pet company, "I was tired of 'corporate America' and wanted to scale down my busy life." Laurel enjoys the peace of mind of owning her own business and working with her husband, Larry, who she says "is a great business partner." Larry was looking for a change from the physical demands of his successful practice as a massage therapist. The two found their answer in purchasing Pet Barn, the then nine-year-old pet supply store located at 12675A Northwest Cornell Road, just around the corner from Bales Thriftway.
Laurel, having been in the pet industry for years prior to becoming a co-owner of Pet Barn, says she is in charge of the "fun stuff" of the store. She handles marketing, merchandising, customer service, and advertising. Larry, who was new to the business, runs the day-to-day operations of the store including managing inventory. Laurel says "he's incredible at the job" and both say they "love their customers and petting their critters."
Laurel and Larry wanted a neighborhood environment when they were looking for a new business. That is what they love most about doing business in Cedar Mill. They both like people and their customers stop by several times a week to pet the amazingly unruffled cats, Tarzan and Cleo, or bring their children or grandchildren in to see Susie, the store dog.
Larry and Laurel's philosophy is: "The business of Pet Barn is not about business, but about pleasing people." They say, "what sets us apart from businesses like Pet Smart is customer service." Larry, Laurel, and the staff work to educate customers about their pet's needs. You can always find an employee in Pet Barn to answer your questions and help you find what you need, whether it's fitting a harness for a new puppy or picking that special Christmas gift for your four legged family member. When a customer adopts a new pet, the owners of Pet Barn send home a toy as a special welcome gift.
Pet Barn, a member of the Cedar Mill Business Association for many years, not only provides service to its customers, but contributes to our community in a big way. Laurel says, "no school, church, or youth fund raiser who approaches Pet Barn for a donation is ever turned away." This type of community involvement is a major part of Pet Barn's annual advertising budget.
Pet Barn also contributes to the Bonnie L. Hays Small Animal Shelter by donating food and supplies. Over 250 kittens found new homes last year alone through Pet Barn's kitten adoption program. While Pet Barn does not sell dogs and cats, they do help local families place kittens in need of homes. In addition to a new kitten, the adopting family receives cat food and supplies donated by Pet Barn and a free medical examination donated by a local veterinarian.
Pet Barn employs a total of seven people, three full-time and four part-time. The part-time employees are all Sunset High School students. Laurel says she enjoys working with them and their help evenings and weekends is invaluable. The three full-time employees each have a specialty – cats and dogs, birds, and fish. All employees are trained in pet nutrition.
Quality nutrition is one of the biggest changes Larry and Laurel have made at Pet Barn. "All food in the store is now naturally preserved. "We carry only human food grade quality products ", Laurel says.
The store also now carries a wider variety of products under the management of its new owners. In addition to supplies for dogs and cats, Pet Barn carries small birds and supplies, fish supplies, breeds their own pet rats, and has a full-service grooming operation. They also provide boarding for small birds and "pocket pets"--rats, hamsters, and guinea pigs.
When asked what her biggest challenges are in the business, Laurel says, "keeping on top of all the new products and getting Larry to work less." When Laurel can get Larry away from the store, the two love to travel, including trips to China and Europe. They also enjoy kayaking (they live on the Tualatin River) and spending time with their own pet family members which consist of two dogs, three cats, three birds, and a pet rat. Those who have been into Pet Barn have met Susie, the store dog. Adopting Susie, a retired racing greyhound, got Larry and Laurel involved in two greyhound rescue groups, Greyhound Pets of America and Homes for Hounds. Larry also volunteers on a regular basis at the Oregon Aquarium in Newport, where he lends his scuba diving skills to help clean the tanks and care for the sea creatures on exhibit.