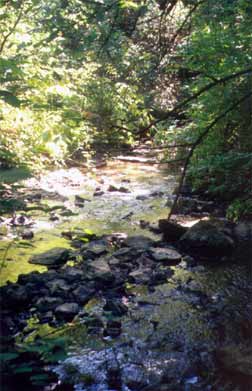 Cedar Mill Creek just below the falls near Cornell and 119th
Rock Creek Watershed Partners
Geologically speaking, Cedar Mill lies on the lower slopes of the Tualatin Hills. Our area is drained by Cedar Mill Creek and several others, all of which are part of the Rock Creek watershed, which joins the Tualatin River at Rood Bridge in Hillsboro. Watershed ecology has become the standard for analysis and protection of natural resources. Webster's defines a watershed as: "The whole region or extent of country which contributes to the supply of a river or lake." This includes all the plants and animals and all the events and forces that change relationships within the system.
Rock Creek Watershed Partners was formed as a coalition of five stream groups. In general, stream groups watch out for the health of a local stream. They monitor development to ensure that environmental regulations are followed, they organize cleanup and planting activities, they help educate residents on good watershed "stewardship practices." So RCWP brings these groups together to mount a more effective campaign to preserve and protect our watershed and educate people.
The group has existed as a low-budget, strictly volunteer organization since it's founding in 1998. This past year, they won a grant from the Tualatin Valley Water Quality Endowment Fund which will enable them to sponsor an Americorps volunteer to serve as a Community Stewardship Coordinator. The Environmental Education department at PCC Rock Creek has agreed to host and mentor the Coordinator during his or her tenure, from September 2004 through August 2005.
The Americorps volunteer will help establish neighborhood groups to adopt and care for a section of stream close to their neighborhood. This will be accomplished by increasing public awareness of watershed issues, and by promoting public connection to, and action for, the health of Rock Creek and its tributaries. From now until the time the Americorps volunteer comes on board, RCWP will be organizing and sponsoring a number of activities in preparation. Information on local activities will appear in The Cedar Mill News when schedules are set.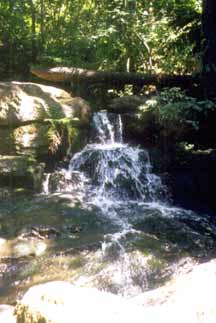 Cedar Mill Falls is on land owned by Teufel Nursery. It is located adjacent to Cornell Blvd, near 119th.
Naturescaping Workshops
These will help homeowners learn how to use native and hardy plants in landscaping. This is important to watershed health because it eliminates the need for most pesticides and fertilizers which adversely affect stream health. Natives also provide the best wildlife habitat, and need less watering and less care in general, giving gardeners more time to enjoy their creations.
Invasive Removal
Many natural areas become overgrown with blackberry and other aggressive non-native plants. These plants choke out the natives and often don't provide good habitat for native wildlife. Work parties will be organized to remove such invaders and replant areas with provided native plants.
Education activities.
As part of Watershed Weeks, a yearly series of more than 150 events designed to educate Oregonians about watershed issues, RCWP is sponsoring "Three Choices for Nature: Hike, Plant and Protect at Rood Bridge Park" on Saturday, October 4. Visit the website at cedarmill.org/RCWP to learn more about the organization, and to sign up for the outing.