113th to be extended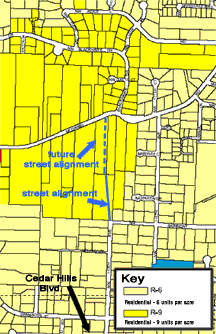 Proposed street alignments
As Cedar Hills Boulevard crosses Cornell northward, it becomes 113th. It is one of the few north-south "collector" routes to Bonny Slope and the rapidly developing area at the iinner margin of the Urban Growth Boundary. But when it reaches Rainmont, 113th ends and a traveler must jog a couple of blocks east on Rainmont to 111th to continue northward to McDaniel.
Washington County has long planned to extend 113th to McDaniel when development allows. Now "Haydon Highlands" is being developed just north of Rainmont and 113th and the county is requiring dedication of a 60 ft. wide "right-of-way for the extension of NW 113th Avenue through the subdivision, as required by the Washington County Uniform Road Improvement Design Standards."
When further development allows connection with McDaniel, it might seem that the logical place for the connection to be made would be adjacent to Blackhawk, which then continues through the Ironwood subdivision and connects to West Road via Talon. However, in September 2002 Ironwood residents appeared before the County Board of Commissioners to object to a direct connection. They cited possible danger to children in their neighborhood. They advocated a "western alignment" which put the intersection 200 feet west of Blackhawk. Thus people intending to continue northward will have to jog east on McDaniel to reach Blackhawk.
All of McDaniel is planned to have a center left turn lane, regardless of where the alternative is.
The "western alignment" alternative was supported by the Board of Commissioners, since, they said, the neighborhood seemed to support it and staff presented no objections. Some of the commissioners thought the "western alignment" would be preferable because it wouldn't require a four-way intersection and thus wouldn't impede through traffic on McDaniel. Staff indicated that it would be difficult to predict any future need for a signal.
Although the 113th extension will relieve traffic for Rainmont residents, it's difficult to see how an offset intersection without a signal will improve traffic congestion for commuters moving north. However it's unclear whether this decision can be reversed before development triggers the extension.