Featured Business
Pacific Northwest Tax Service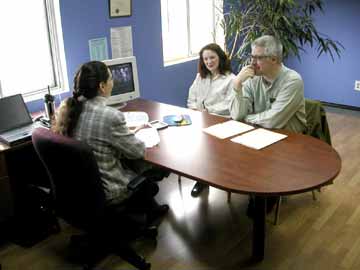 April Gutierrez advises clients in the Cedar Mill office

Love and taxes? Not a combination you usually think of, but it explains how Pacific Northwest Tax Service got started. April, who hails from Alberta, Canada, was studying to be a reporter in Perth, Australia when she was invited to a party being held by the officers of an American Navy ship. At the party she met naval aviator Jess Gutierrez. They were attracted to each other immediately, but he was leaving in three days. After an eight-month correspondence, she joined him in Washington and they soon married.
When Jess left the Navy, "he wanted to go into business for himself and was interested in the idea of purchasing a franchise," says April. "We ended up purchasing a tax service franchise in Portland. We operated the franchise for 3 years but the franchise owner was making business operations and customer service very difficult, so we decided to go independent. We became Pacific Northwest Tax Service in December of 1995 and have never looked back. "
They opened their Cedar Mill location in September of 2001. "After 9 years we had outgrown our original office on NE Broadway. We were literally bursting at the seams. Also, we needed an office that had enough space to hold a tax school," explains April. "We were very pleased to find a location close to home that offered the space we needed to expand." They live in nearby Forest Heights. April says, "I consider a short commute essential to a good quality of life! "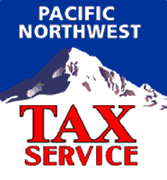 " We have found Cedar Mill to be a shopping and destination point for the Forest Heights neighborhood as well as for people living in Bethany and Cedar Hills" April points out. "Everyone seems to know where Cedar Mill and Cornell Road is. "
Tax School
Oregon is the only state that requires tax preparers to be licensed. Pacific Northwest Tax Service offers Tax School – a 13-week intensive course which gives people the knowledge to pass the Licensed Tax Preparer exam. April says, "We offer tax school for two important reasons. Good preparers are in very short supply. By offering a school, we can give quality continuing education to our employees and we can train new people who are interested in becoming licensed as tax preparers." She continues, "we also offer tax school as a public service. Many people are interested in learning to do their own returns with some level of confidence that they are being done correctly."
The next session of Tax School begins on September 7. The $349 fee includes a comprehensive workbook. They are also offering it as a correspondence course for $399. Information is available on their website, pnwtax.com. The course can also qualify as Continuing Professional Education (CPE) for CPAs and other professionals who need to know more about tax preparation.
There are no prerequisites for taking Tax School. However, if you want to become licensed to work as a paid professional preparer, the State of Oregon requires you have a high school diploma or GED equivalent.
Open up
It's important to be open and honest with your tax preparer, says April. "People need to see that I'm their partner," she asserts. "I can't find all the deductions you are entitled to if you don't give me complete information."
She continues, "taxes are incredibly complex and always changing. The biggest problem I see for people who prepare their own tax returns is ignorance. Ignorance is very expensive. Sometimes people claim a deduction they are not entitled to. But more often, people miss out on deductions they are entitled to because they don't know the deductions exist or because they are afraid to claim them, fearing it will get them in trouble with the IRS."
She says, "I can't tell you how many times over the years I have reviewed back year returns for people and been astounded at the tax blunders they have made. Most of the time, these blunders have cost them hundreds or thousands of dollars. Isn't paying a professional service like ours $100-200 worth the savings and the peace of mind?"
Pacific Northwest Tax Service is locally owned and operated. April mentions, "We stand apart from H&R Block because of the quality and expertise of our people. We stand apart from many CPAs because our tax expertise is superior and our prices are often lower."
They also do business consulting, bookkeeping, payroll and prepare incorporation and LLC formation packages for business customers who want to incorporate their businesses. You can contact Pacific Northwest Tax Service at 503-646-5600 or visit their website at pnwtax.com.