Bales Thriftway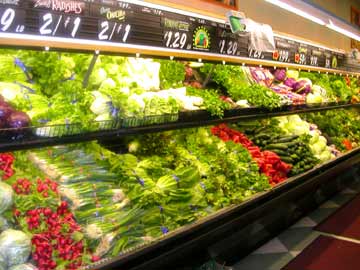 Standard and organically grown produce are featured
in Bales' produce section

Odus Bales was a man of vision—vision that drew him out from Missouri to Oregon in 1929, and led him to develop a grocery business, first in St. Johns and then in our community. Lillian Findley was a widow running a strawberry farm at the corner of Saltzman and Thompson when Odus came out to buy strawberries for the St. Johns store. After a couple of trips, he began to court her and they married in 1956.

Lillian located the property for the first Cedar Mill store and together they built the Milltowner Shopping Center at Cornell and Saltzman in 1961. The original store was in the building now occupied by Hi-School Pharmacy.

There wasn't a lot going on in Cedar Mill then. "There was nothing there, no stores or anything," recalls Mrs. Bales. In fact, Saltzman didn't connect to Barnes, it started at Cornell. Barnes only met Cornell further down (near the Shell station) and you had to double back to get to Saltzman.
Shaping Cedar Mill growth
It was Odus' vision that led him to donate the land to the county to enable building an extension making it a through road, and then he paid half the development cost of the road. Ken Findley, Odus' stepson and General Manager of Bales, recalls everyone being skeptical of the value of this move. "We didn't have extra money at that time, and I couldn't believe that he'd done it. He just said he knew it was needed, and of course he was right. "
" He really had a vision of the growth of this community. He played a big part in it too," says Ryan Egge, Mrs. Bales' great-nephew and property manager for Bales. Odus and Lillian were instrumental in founding the library, and made the land available for its construction. The business continues to support not only the library but many other community activities. Odus died in 1998 at age 88, but Lillian continues to work in the office, arriving at 7:30 every morning, "and we make her go home at 3:30," laughs Ken.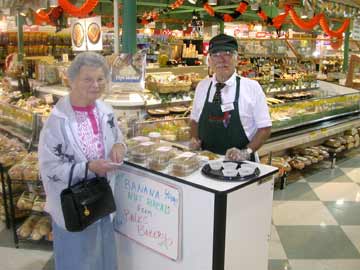 Harvey Scraper offers a sample of fresh Banana Bread to long-time resident Rhoda Cole, who attended high school with Lillian Bales
The current store opened in 1988. It's a modern and pleasant environment for wandering the aisles and planning meals. Be sure to stop by on a Saturday afternoon, when samples are often offered by various suppliers and Harvey Scraper cooks up something yummy using Bales' wonderful meat or fish. And don't miss out when they hand out little tastes from what has to be one of the largest displays of Oregon wine in the area. They also stock a good selection of Northwest microbrews.
Like small shops
" Each of our departments is run almost like a separate business," says Ken. "The managers are given some goals and parameters, but they're also given a lot of latitude to make decisions." The quality and diversity of the offerings reflects this.
Bales' bakery, run by manager Eric Granquist, can compete with any free-standing bakery in the area in quality and range of goodies. Kelly Warner runs the delicatessen counter which provides wonderful entrees and sides for those busy evenings and special parties.
The produce section, managed by Ted Beckman, rivals fancy downtown groceries in the freshness of the fruits and vegetables and the variety offered. "We send our trucks out every day to get local produce, like those peaches from Maryhill. We do get some things from the Thriftway warehouse, but a lot of our produce is local direct to us, " Ken says.
The seafood department run by Betty Lillebo seems to have the freshest seafood in town and a great variety, and also offers good advice on preparation. The meat market not only offers Angus beef, but also the flavorful naturally grown beef from Painted Hills in Wheeler County. Try the incredible filet mignon for your next special occasion – you may never bother going to a steak house again!
Allen Best, grocery department manager, seems willing to take a chance on local specialty food producers, so perusing the aisles can be an adventure beyond the big corporate brands. Fred Meisner in the garden department keeps us all tempted with beautiful plants during spring and summer and brings in an amazing variety of evergreens for the holiday season. Bill Colton, store manager, keeps it all coordinated and running smoothly.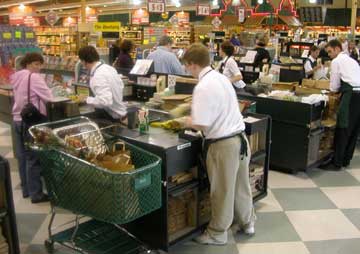 Young residents get job training at Bales' checkout

Bales' has always given local kids a start, hiring them as boxboys and baggers. "It's really neat to take a shy young kid and draw their potential out," Ken mentions. "Some of them have gone on to become architects, surgeons, teachers. It's very satisfying to know we helped them get going. "

Bales is a member of Oregon's Thriftway Stores, which is mainly an advertising group. "It's too expensive for an independent to do big newspaper and tv ads," says Ken. "So belonging to Thriftway gets us that good exposure. All the Thriftway stores also use the same warehouse for distribution. But each store is privately owned. This lets us be responsive to the needs of the people in our neighborhood." Like staying open overnight – which Ken says started on the advice of a marketing consultant. "There are people there anyway," Ken mentions. "We start receiving shipments at 10 pm, and we have people restocking all night anyway, so we just keep someone available for checkout. "

Bales "empire" also includes property management and construction. Their holdings include a fair portion of "downtown" Cedar Mill, along with the Farmington store in Aloha. The Cedar Mill Town Center project will inevitably bring on redevelopment of some of Bales' property, which will change the face of our town for the better in the "not too distant future." We're confident that this locally based family-run business will continue to be a force for enhanced community as it has in the past.