The Cedar Mill Shuttle —vans to the max!
When the westside light-rail MAX service began in 1998, people in the Cedar Mill community expressed an interest in some kind of public transportation to get to the Sunset Transit Center so they could take advantage of the new trains. TriMet responded by initiating the Cedar Mill Shuttle as a demonstration project.

" Regular" bus service in our area is impractical for several reasons – hilly terrain accessed by winding and sometimes narrow streets with few sidewalks, a small number of major streets which tend to be distant from many residents, and the generally spread-out nature of our outer subdivisions.

Sassy's Cab Company was contracted to provide the service. It ran two cabs (later replaced by small vans) serving residents from 6 am until 7 pm weekdays. Service could be prearranged on a regular schedule, or you could call to schedule pickups the day before. You could also take your chances and call a driver for same day service but this wasn't guaranteed.

Due to good community response, the service was continued after the first year, for a total of around four years. At that point TriMet's agreement with their union called for them to take over the service, using TriMet drivers and vehicles, starting in September 2002. Following some community discussion, TriMet offered a version of the service that differed from the original. The service only runs from 6-9 am and 3-7 pm. This service is strictly for typical commuters, where the previous service was useful for all kinds of trips, like getting to and from the airport, going to appointments and shopping, and for people whose jobs aren't 9-5.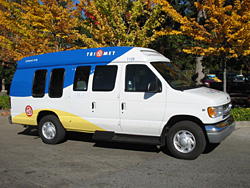 One of the vans used in the Cedar Mill Shuttle program. Photo courtesy TriMet
The process for scheduling trips is more or less the same – subscribe for regular pick-up by registering on their website; call ahead to schedule a pickup at 503-962-7616 between 8 am and 8 pm; or call the shuttle driver directly at 503-880-7804. Shuttle phones are in service from 5:30-9 am and 2:30-7 pm. Same-day rides are subject to availability.
TriMet says they're committed to serving riders in our area, but they're concerned about the high cost-per-trip that results from lower ridership. At a recent CPO#1 meeting, they handed out a fact sheet that claims a cost of $6.50 for each ride.
TriMet will soon be sending out a mailing to Cedar Mill Shuttle area residents to promote the service, explaining options and asking for community input via an online survey. They will also be asking current users of the service to fill out a survey on their usage and needs. We urge you to respond and help keep this service on the road.
TriMet Senior Outreach Representative Jeremy Wright says, "The Westside MAX has proven to be an unqualified success. Daily ridership is 28,400 trips a day, which surpasses our 2008 projections. TriMet just expanded service on the Westside by extending the Airport MAX Red Line to Beaverton Transit Center. We have no other plans at this time to expand Westside light rail."
The proposed Washington County Commuter Rail project would travel 14.7 miles between Wilsonville and Beaverton Transit Center, and would also serve the cities of Tigard and Tualatin. Currently TriMet is awaiting permission from the Federal Transit Administration to enter final design. The project is a partnership between TriMet, Washington County, and the communities of Beaverton, Tigard, Tualatin and Wilsonville.
Wright says, "Service to our suburban communities remains an important priority for TriMet. Suburban areas' lower density makes it more challenging to serve these areas. To help meet the transit needs of the entire region, TriMet has developed a five-year Transit Investment Plan (TIP) that provides a framework and plan for investment in public transit in the region. The TIP's 'local focus areas' for the coming years are in suburban districts on both the east and west side including Tigard and Hillsboro."
The 630-space Sunset Transit Center parking garage is usually full by 8 am each weekday. Unfortunately, the parking structure cannot be retrofit to add more floors or parking spaces, and TriMet has not been able to purchase additional land to expand it.
There are times in the morning when the shuttle can't pick up any more people and still get them to the trains in time to fit their schedule. This doesn't mean that the vans are full, just that because of the spread-out nature of the area, if they filled a van, the first people picked up would have to ride around so long they'd be late for their train.
Wright continues, "I would just like to emphasize that TriMet is committed to the Cedar Mill Shuttle but ridership must improve in order for this operation to be efficient. I encourage everyone to get out and use the shuttle whether it is for work or play!"
Area resident Chuck Thompson says, "It needs to be recognized that the shuttle is a subsidized service provided to a portion of the Cedar Mill community and not duplicated in the TriMet service area. However popular the service may be to some, it would be my guess that the service in its present form would not survive objective scrutiny and will evolve to something approaching normal transit service."