White Realty/HomeSellers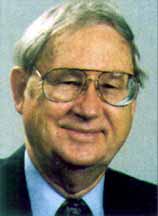 When Norman White first got into the real estate business in 1962, the only subdivision in Cedar Mill was Terra Linda. Since that time, he has sold hundreds of acres into development. But don't blame him! As Portland grew, Cedar Mill grew with it. Our proximity to the city and the abundance of land made this growth inevitable. He mentions that some of the early families who bought up land for farming have become quite wealthy from land sales and development.
Norman's wife Olivia founded White Realty in the '50's. Norman had been a sales manager for the Norfolk & Western railway, when he realized he would rather be selling real estate and he joined the company. Eight years ago he sold it to Clif Kemp of HomeSellers, and it became HomeSellers/White Realty (home-sellers.com). The company still buys and sells a number of homes in our area, though the office is now in Beaverton.
Norman has seen property values do nothing but climb in this area. And despite the gloomy job market, people are still streaming in and looking for places to live. "There's no leveling off," he says. "We have a shortage of properties at the moment. Housing inventory is measured in demand-months, and current inventory is just enough to satisfy the demand for 2.7 months. At this time in 2003 it was 3.3, and in 2002 it was 4.3.
This means that a buyer must act with lightning speed. Norman's advice to anyone interested in buying a home is to have your wants and needs figured out, your financing arranged, and when you find something that adequately meets your requirements, don't even wait overnight to make an offer. He worked with one person who missed out on several nice homes because she waited. Eventually she bought a FSBO (for sale by owner, pronounced fizz-bo in the industry) and, according to Norman, paid about $25,000 too much for it.
He does, of course, advise everyone to work with a realtor, whether buying or selling. If you're selling, his advice is to paint the front door! Of course, you should also spiff up the landscaping, paint inside and out, but it's that front door that makes a big impression.
Norman's in his eighties now, but he's still very active in the business, except during the winter when he's in Hawaii! He says his greatest satisfaction comes when he is able to help a family find their first home.
Norman was one of the founding members of the Cedar Mill Business Association. He continues to support the organization but wishes more businesses would join, and more people would attend meetings. (We all wish that, Norman!)
He feels traffic is one of our biggest problems, and with the seemingly endless growth, he only sees it getting worse. He also points out that the Community Library needs our help to keep up with our growing population, more so now that the county levy failed last spring. Call Norman White if you have questions or need help with anything real-estate related, 503-533-4564.