Team Web Website Design
Virginia Bruce, who works out of her Bonny Slope home office, began designing websites in 1994. "Back then, there was only one browser available, Mosaic. When Netscape came out, it was a very big deal," she recalls. "And yes, I did have to code by hand."
She got into website design after organizing a program about the internet for the local chapter of International Interactive Communications Society, a group focusing primarily on CD-ROM development at the time. "Jim Diebele, the founder of Teleport (a local internet service provider, since acquired by Earthlink), offered to give IICS a free account if we'd set up a site. He figured it would help promote the net in general and also his services. Since I was already doing the newsletter, the website sort of fell in my lap," she recalls.
It was "love at first site," she says. "I had found a way to use most of my skills and experience—writing, design, advertising and multimedia." She quit her job working for a multimedia producer and started a website design company with a few friends who had also fallen in love with the web. Their first big customer was Tektronix Color Printer division (later sold to Xerox). "I think they chose us because nobody else in town was doing this stuff, and we were available. It was a real immersion to begin with such a big project," she remembers.
The pressure of that project broke up the fledgling company, but Virginia wenton to found Team Web and has been working on websites ever since. She has worked for other companies through the years, but kept Team Web going and now divides her time between the Cedar Mill News and her website customers.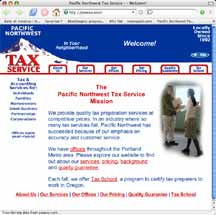 She enjoys working on websites for local businesses. She has done sites for Sunset Chiropractic (sunsetchiro.com), Walker Garbage (walkergarbage.com), and Pacific Northwest Tax Service (pnwtax.com) and has just begun to redesign the site for LogoPDX. Other clients include one she's had since 1996—C & C Offset Printing, a fine art book printing company with factories in China but with a local sales office (ccoffset.com); and local sculptor Devin Laurence Field (devinlaurencefield.com). She created and maintains the Cedar Mill website (cedarmill.org) and recently completed redesign of a site for the Tualatin River Watershed Council (trwc.org).
She tries to help her clients focus on the user of the website. "I try to put myself in the shoes of someone encountering this business through the site. What would I like to know?" she asks. "Of course, I have to put in what the client wants, but I try to do it in a way that is simple and clear and satisfies the needs of the site user. My goal is that nobody gets confused and frustrated using the sites I design," she says. "I also take care to make my sites professional. This includes good grammar and spelling, links that work, and a clean design."
"When I start to work with a new client," she explains, "I ask them what they want their site to do for them, what they want people to find, basically why they want a site. Then I make a proposal for the entire project. Once we get that agreed on, I give them an assignment sheet. I can do the design, but they have to provide the content—I can't make that up!" she laughs. "Sometimes that's the hardest part of the job, getting content from busy people," she continues.
Once the site is completed, she charges by the hour for additions, corrections and updates. "C&C has just gotten their third redesign," she mentions. "Some of the content came from the China office, so I had to translate from "Chinglish" to good English. Just part of the service!" She feels that her writing skill is an important part of her value to her clients. "Some people judge you by grammar and spelling," she says. "So you need to make a good first impression."
She first got involved in Cedar Mill when she was invited to be on an ad hoc committee of Tualatin Hills Park & Recreation District studying the future direction for the district in the Cedar Mill area. "I suggested that we could set up a site for the committee, and Sue Conger, another committee member, mentioned that the library already had a site that wasn't being kept up. I met with Peter Leonard and it just went from there." She began attending meetings of the Cedar Mill Business Association and finally suggested a newsletter to help increase membership. "That just sort of grew into the paper as it is now," she explains.
She loves the community and one of her most important goals is to get people to be "invested" in the area so they will stay and not move on to the next job in the next city. "I believe that people who feel like part of a community are happier. If I can help make that happen through the website and the paper, it's worth all the time I put in," she says.
More information about the services offered by Team Web is on teamweb.com. Virginia can be reached at vrb@teamweb.com or by phone at 503-629-5799.