Second Edition supports library through sales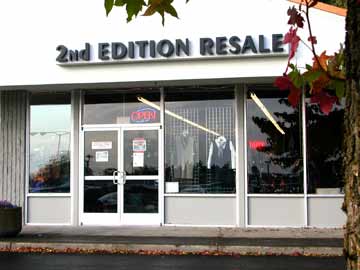 If you think Cedar Mill doesn't have a clothing store, you're mistaken. If you think you can't buy furniture or sports equipment here, you've missed a good bet. Tucked away in the northeast corner of the library parking lot is a small shop just filled with quality items waiting for you to buy, and all the profits go to support our private, non-profit Community Library. This year Second Edition Resale will give the Cedar Mill Community Library Association over $100,000!
And if you think that you have to take your no-longer-needed items to a Goodwill dropoff station, you have a better alternative that will keep the benefits right here in the community. Second Edition welcomes donations of clothing, housewares, toys, sports equipment, home decorations and furniture, all in good condition, of course. Recycling your stuff and benefiting the library – what a deal!
The private, non-profit Cedar Mill Community Library was founded by local residents in 1976. To help support the library financially, a rummage sale "fondly known as M.E.S.S." – Miscellaneous Etcetera Super Sale – was organized and held annually in the library parking lot.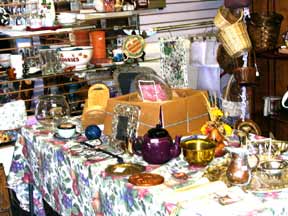 So many donations were coming in all year for the M.E.S.S. that some of the volunteers wondered if they could support an established shop. When the lease expired on the old hardware/variety store, which originally occupied part of the library building, library space expanded from 5,000 to 16,000 square feet. The group went to the library Board of Directors with their idea. The Board agreed to share some space and gave a little seed money to get the shop started. It was a good decision. Board treasurer Mark Sleasman, a local attorney, who was dropping off some rugs, said "Second Edition is a big and stable source of funding for the library. "
A dedicated group of over 75 volunteers. appraise, clean, mend, price, and ring up merchandise. Mary Cantwell was on sales duty when I visited last week. She has been volunteering for about a year. "Its one way I can help the library, plus I have a good time and I meet interesting people," she explains. The only employee of the shop, Charlene McKeehan, works half-time coordinating the volunteers.
" Appraising items is an all-important activity," explains Sue Conger, a founding member of Second Edition. "It sets the value and maintains our high quality." Library supporters select their very best to donate and are very generous in their giving. "Often children's clothing has been outgrown before the tags are removed, and many of the women's items have never been worn at all – sometimes we find the sales slip in the bag when we receive an item," Conger notes. The selection turns over quickly. Library staffer Becky Reichard stops in about once a week during her break to find clothes for her daughter.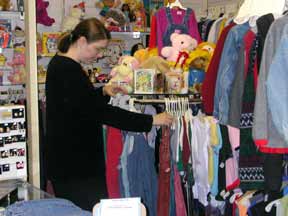 Treasures turn up regularly. Currently there's a hand-knotted oriental rug of considerable value. Look for it near the sales desk (if it has not yet sold!). A silver plated soprano saxophone that was played in the Big Band era was rebuilt and sold to a collector. A gold necklace was donated by a jeweler. "When we receive something really interesting or valuable, our policy is to always put it out for sale to our regular customer for at least 30 days. If it hasn't sold at that point, we may take it to a consignment shop. One of our volunteers is learning how to sell on eBay, so we may do some of that in the future," Conger mentions.
Second Edition is open six days a week, from 10 to 8 Tuesday, Wednesday through Saturday from 10 to 5, and Sunday from 12:30 to 4:30. Mondays the volunteers are busy creating new displays and putting out new merchandise for your week's shopping. Good quality stuff can be brought in anytime they're open, although they suggest phoning first at 503-644-6395. They're located at the east corner of the Library building (on the north side of the Milltowner Shopping Center at Cornell and Saltzman) and online at cedarmill.org/library/resale_shop.html . Stop by on your next library visit and discover whatyou've been missing!