Cedar Mill Pole update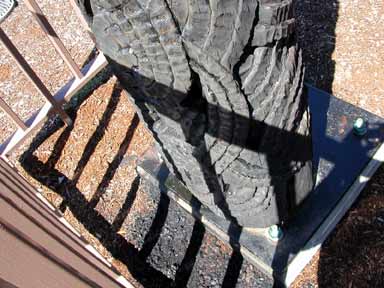 Cedar Mill's Sentinel Pole, scorched by a fire set by vandals last August, didn't sustain major damage and will probably be left as is, after some cleaning. "We will keep it clean, but probably not take any extraordinary measures," says Anne Madden, Program Educator with Washington County Land Use and Transportation Department. "We are planning to have two more lights installed to improve nighttime visibility, " she continues.
Native American artist Rick Bartow, who carved the pole, has expressed his view that this is just a part of the life of the pole, like the hole near the top drilled by a Washington D.C. woodpecker while the pole was in the White House garden.
Ed Bonollo, of Tualatin Valley Fire and Rescue, says that their arson investigation hasn't turned up any evidence that points to the perpetrators. "We were given some names, and between our investigators and the Beaverton police we interviewed everyone, but the case remains unsolved. It's open, but 'cold,' and at this point the only way to warm it up is for someone to come forward with more information," he states. "When you go beyond a certain point it becomes difficult. People have had time to think about their stories," says Bonollo. "We'd be glad to hear from anyone with information. We'd love to solve this thing," he adds. You can contact Ed Bonollo at 503-356-4715 or edward.bonollo@tvfr.com.
More about the Sentinel Pole is online at cedarmill.org/pole.