Barnes/Cornell Road Project Open House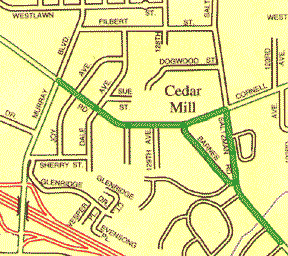 Roads affected by the Town Center Project

The final meeting of the Barnes Road/Cornell Road project Project Advisory Committee was held on October 1st, where we received some excellent news. The utility companies have agreed to place their lines underground on our project site. In addition, there will be a signal light at the Cornell/Barnes intersection near the Shell station. Washington County will eventually be adding another southbound lane to Saltzman at the Cornell intersection thus providing right-turn, left-turn and straight ahead traffic lanes. These lanes will begin quite a way back on Saltzman in the hope that people will stop using Filbert as a secondary way west. This project is separate from the Cornell /Barnes project and will be funded from another source.

The Cornell and Barnes Road Project affects Cornell from Murray to Saltzman and Barnes Road from Cornell to the future 119th (see map). The emphasis of this project is "to address multi-modal transportation needs on the two roads including features consistent with the goals of the Cedar Mill Town Center. "

The open house will provide an excellent opportunity for neighbors to review the nearly completed final engineering design, and find out about landscaping, wetland mitigation plans, lighting and wall design. Information will also be available about construction staging and traffic during and after construction. There will be no formal presentation but Project Advisory Committee members, County staff, and consulting planners and engineers will be available to discuss the project and answer questions. For more information please contact Alex Sander, Washington County Project Manager, 503-846-7817 or alex_sander@co.washington.or.us.

More information about the Barnes/Cornell Road Project is available online at projects.ch2m.com/cornellbarnes.