History in the News


James Flippin, a determined Cedar Mill pioneer

James A. Flippin endured two unfortunate trips from Tennessee to the Oregon Territory before he came to settle in Cedar Mill. Flippin's first trip was made during 1845 when he came with his uncle, Colonel Robert Hull, on the ill-fated Stephen Meek wagon train. Along the way, the young man worked as a cattle driver with his friend, Ben Cornelius, together herding over 100 head of stock.

The train became lost and guide Meek abandoned the group. As the immigrants searched for the Columbia River, many pioneers and their livestock died, even though most of the animals driven by Flippin and Cornelius survived. The two men eventually reached the Tualatin Valley and made their living the first winter splitting fence rails at Wapato Lake, southwest of Forest Grove.

In 1849, Flippin joined the gold rush to California where he successfully worked a placer mine. After several years, he booked passage and sailed from San Francisco around the Horn to New Orleans, returning to Tennessee where he married Jane A. Patton. The couple persuaded their parents to resettle with them in Oregon, and in 1852 they all started west.

Soon after leaving, the couple's first child and all four parents died of cholera, along with half the wagon train. The determined Flippins returned to St. Louis, outfitted another train of their own and in 1853 started for Oregon. This time they made it and claimed 320 acres of land divided by upper NW Saltzman Road and NW Burton Road. Flippin built a cabin near NW 135th, where 11 children were born.

About half the original claim, including property east of Saltzman, was sold in 1864 to Justus Jones, owner of the cedar mill on Cornell. Flippin continued to farm his remaining acres. Tax records for the year 1882 show Flippin holding about 100 acres valued at $2,200 and that he owned two horses worth $60, two cows at $40, and five pigs totaling $10.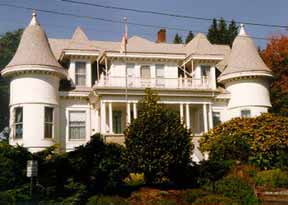 The Flippin Castle in Clatskanie
Flippin was an active member of the community. For 17 years, he was clerk of the Union School District. He was county assessor for four years, worked as the Beaverdam precinct enumerator (collector of census information), and acted as justice of the peace for several years. Flippin's last 100 acres were sold in 1885, when he and his family relocated 22 miles northwest of Hillsboro.
Years later, son Thomas J. Flippin of Clatskanie prospered in the lumber industry and in 1899 commissioned Markwell & Sons to build the "Flippin Castle" which is currently a National Historic Site in Clatskanie. The Castle was restored 81 years later and is now owned and maintained by the Clatskanie Senior Citizens where it serves as the group's headquarters and houses a museum. Daily tours are available at $3.00. See http://www.twrps.com/ccor/castle.html