South Africa comes to Cedar Mill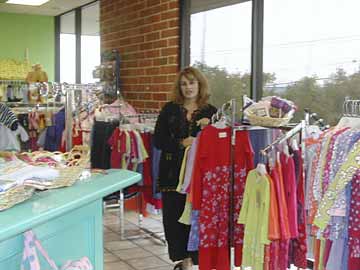 Coleen Suminski and the colorful clothes at Twinkle Twinkle
Twinkle Twinkle Little Store is bringing a splash of Cape Town, South Africa to the Saltzman Village shopping center (the triangle) in Cedar Mill. This new children's clothing store for infants to 12-year-olds held its grand opening last month, and has created a buzz about town already. Twinkle Twinkle is the only store in Oregon carrying the exclusive Keedo Kids clothing line of hand designed, hand made, high quality cotton clothing.
"We've had calls from as far away as Bend," says shop owner Coleen Suminski. "These clothes are not made in sweatshops, and have unique designs that cannot be found at any other mall or store," she continues.
Her husband Steve also helps with the store. "My wife and I were visiting California when Coleen saw the Keedo line and fell in love with it. She immediately wanted to open a store in Portland. It took her weeks to track down the supplier, but now we are one of only five stores in the nation that carry Keedo clothes, so it was worth it," says Steve.
Twinkle Twinkle's customers agree. Noreen Hussain placed a big order for school clothes for her two children. She comments, "It's fun to discover something new. Other mothers are always complimenting me on my kid's clothes, and they always want to know where I got them. The Keedo clothes are fun and colorful, and the color holds up well to washings."
Twinkle Twinkle Little Store is open Monday-Friday from 10-6, and Saturday 11-6. They can be reached at 503-641-4154, or at twinklestore@yahoo.com.