Biking and Walking in Cedar Mill

By Bill Hagerup
For experienced bike riders, Cedar Mill is a very attractive area. In fact, that was a major factor in choosing this area when my wife and I moved here in 1996 (before our kids were born). It is a short ride to Skyline and other traditional road-biking routes. For hard-core mountain bikers, Forest Park trails can be accessed only a couple of miles to the north. For bike commuters, Beaverton is accessible to the south via bike lanes on Murray and Cedar Hills Blvd. (although getting under the Cedar Hills Blvd. overpass of the Sunset Highway is dangerous for bikes, and needs improvement). For the hardy, commuting to inner Northwest Portland via Cornell is manageable, likewise for Intel and other high tech sites in Hillsboro. For the less ambitious, the Sunset Transit Center is close by, and MAX is very bike-friendly.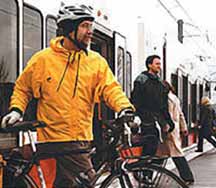 Biker's paradise, right? Unfortunately, the situation is rather different for less experienced riders such as school age children and adults who haven't been on a bicycle in awhile and want to get back in the saddle. For pedestrians, it is even worse. Our area has very few off-road trails. In general, the abundance of dead ends and cul-de-sacs force bikers and pedestrians out on to the main roads, which are largely devoid of bike lanes. There are a few noteworthy exceptions, such as the trail that connects 131st to Saltzman, allowing Terra Linda residents to use the north-south route which was closed to drivers some years back. Kearney, Marshall, Burton, Filbert, and Westlawn Terrace provide reasonably safe east-west alternatives. The Cedar Hills Blvd. extension has a nice new lighted bike path. And of course, the beautiful new Main Street taking shape on Cornell will make walking and biking on Cornell a pleasant and safe experience for the first time in decades.
By far the biggest problem for walkers in Cedar Mill is the lack of sidewalks on the local connectors such as Saltzman, Leahy, 119th, 113th, 111th, McDaniel, Thompson, and portions of Cornell. Instead of sidewalks, many of these roads feature narrow or non-existent shoulders and deep ditches. It is a sad fact that many of our schoolchildren (even middle-school age or older) cannot safely walk to their classmate's houses, even if their friends are only a couple of blocks away. Obesity is now the single largest health problem among our children, and is second only to smoking among adults. If we walk or bike instead of drive, we and our children get exercise, while at the same time reducing pollution and traffic congestion.
Sounds great, but how do we make it happen? Unfortunately, there seem to be few easy options. Major new road projects, such as Cornell, Barnes, or the Cedar Hills Blvd. extension usually include new bike lanes. This is good, but many of our local roads (such as those mentioned above) are not scheduled for widening in the foreseeable future.
Ed. Note: This article will be continued in the Spring. Bill would like to hear from area residents who have an interest in this topic, whether you simply agree with his comments, have ideas to share, or would like to get involved in the solution. Contact him at bill@hagerupfamily.com or by phone at 503-643-4823