Cornell Eyecare

by Virginia Bruce
So how do you test the eyesight of a baby? Dr. Chad Lawson knows, and it's not that hard. "We have a retinascope that measures prescriptions by bouncing light off the retina. In fact, we can test anyone's eyes this way, and it is accurate enough to prescribe glasses. But with adults we like to do the other tests because getting the correction right can be somewhat subjective," he says.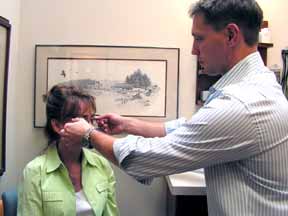 Dr. Lawson takes care of the vision of his patients at Cornell Eyecare, located on the north side of Cornell west of Saltzman. He began working there with Dr. Raymond L. Roy, Jr in 2001, when he bought the practice from Dr. Roy, who still sees clients two days a week. "He's not retiring, he's exploring other ventures," Lawson says. Lawson had previously worked for a doctor in Tigard and at a chain store.
Both Dr. Lawson and Dr. Roy got their degrees from Pacific University College of Optometry. Dr. Roy built the building on Cornell in 1978, when he founded the practice after working with his father in Portland. He chose the location because Cedar Mill was a growing community. And they have another thing in common – both have wives who work in the practice. "When Dr. Roy is here, his wife Marietta comes in and works with him. And my wife Caryn also works here part time and also buys all our frames," Lawson explains. Other employees include office manager Pam Flores and receptionist Mary Ingram.
What's the advantage to getting your vision care and correction from a practice like Cornell Eyecare rather than the discount mall shops? "Most people who go to the mall shops discover that their service is unpredictable," explains Dr. Lawson. "Our service and professionalism stand above others. We use only the best products, which are a great value."
Does Dr. Lawson ever recommend corrective surgery for his patients? "Yes, but it's important for patients interested in laser refractive surgery to know the risks and benefits. I take it on a case-by-case basis. Surgery does work, but you also need to remember that your eyes are always changing slightly," Dr. Lawson cautions.
People should have their vision tested every one or two years, he says. Headaches, blurry or double vision, trouble with concentration, tired eyes and squinting are all signs of vision problems. If you're interested in getting more information about vision problems, Dr. Lawson recommends webmd.com.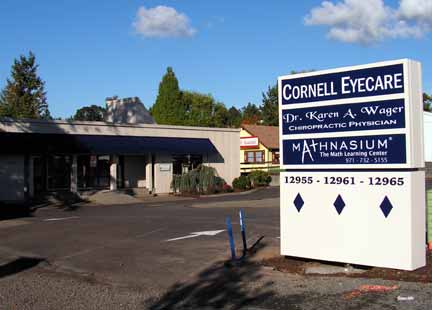 Children get a basic screening in schools, but they're not tested for near vision, lazy eye, or eye disease, so they should get their first checkup at about 6 months and again every one to two years. "It can sometimes be challenging to work with young children," he admits, "but I have three children of my own and I enjoy working with them."
Cornell Eyecare recently installed a new sign in front of their store, since the construction work on Cornell is done on their side of the road. "There was a lot of delay and confusion during the construction, but we are near the end and looking forward to the road's completion," Dr. Lawson says. He enjoys learning about Cedar Mill's history, and is proud that the business has been in the community for over 25 years. "And the area is still improving, with lots of small businesses."
Cornell Eyecare is located at 12955 NW Cornell Road. Their phone number is 503-643-5556. They are open from 8-5 Monday-Wednesday, 8-7 on Thursday, and 8-3 on Friday. They welcome new patients, and the average wait for an appointment is just a few days. The first appointment usually takes about an hour. They have a website at www.cornelleyecare.com.