Mailboxes & More
Mailboxes and More is a full service packaging, wrapping and mailing store. You can find everything you need to send those gifts including wrapping paper and a delightful selection of greeting cards. But if you want to ship for Christmas delivery you better get down there now. According to Layne Brady, owner and operator of Mailboxes and More, the deadline for shipping to the East Coast for all ground carriers is December 15th (UPS, FedX and Airborne ground).
Mailboxes and More is an independent business, not a franchise of a larger company. The store has been in this location for almost 12 years and has built a core group of customers who enjoy the convenience of having Layne and his staff to handle all of their wrapping, shipping, faxing, copying and office supply needs. They also have a Notary service, which is becoming difficult to find since most banks now only notarize bank documents on a specific transaction. Oh, and did I mention that you can also get a private mailbox.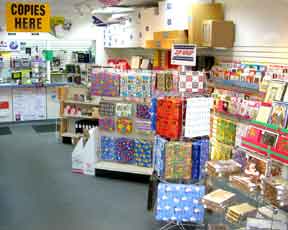 Mailboxes and More offers a VIP card to their customers. For $20 you receive a card that entitles you to discounts on their services for one year:
10% discount on UPS, FedX, Airborne Shipping, packaging materials, labor, greeting cards and office supplies
20% discount on Notary services and faxing
5-cent black and white copies and 49 cent color copies
More great customer service… once any customer has mailed to a particular address, information stays in the database and can beprovided to the next person shipping to that company, eliminating the need for customers to have address and zip code information with them when they come in.
Layne Brady has owned this store for six years. He comes from a background of owning and operating nursing homes. He sold those several years ago and according to him, he spent "seven years in semi-retirement spending my kids' inheritance." I asked employee Mike Luce how long he has worked for Mailboxes and More, his reply was "Four Christmases, that's how we measure time around here."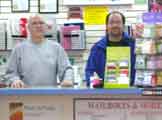 Great people and great service! Stop in and see the folks at Mailboxes and More.