Business News October 2019
New brewpub coming to Timberland
Great Notion Brewing & Barrel House, with two locations on Portland's east side, is best known for its hazy, fruit-forward IPAs and "culinary-inspired" sours and stouts. The company just announced that the company has signed a lease in the Timberland Center in Cedar Mill.
The goal is to officially open right after the New Year 2020 but the landlord has pre-approved a pop-up beer garden tent to open for business while the interior build-out is getting underway. Great Notion hopes to open the pop-up tent on weekends starting in November.
"So many of our customers work at Nike, Intel, and Columbia, but have a hard time getting to our Alberta and NW locations with all the traffic these days," says cofounder Paul Reiter. "We wanted to make it easier for people out in Beaverton and Hillsboro to be able to try some of our juicy IPAs and flavorful beers like Double Stack and Blueberry Muffin, but not give up any distribution rights or become a distributor ourselves."
Great Notion's new space will feature 20 taps, a slimmed down food menu (still to be determined) and also have beer to-go. The location, previously used by Ava Roasteria, is 2000 sq. ft. indoors with roll up garage doors leading to a beautiful elevated stone beer garden.
"We really like the Timberland shopping center because it doesn't have that old strip mall vibe," Ryan O'Connor, VP of Operations says. "The wood, stone, and metal construction really echoes our Alberta and NW 28th locations."
Get a taste of our new neighbor on their website: greatnotion.com.
Cedar Mill Farmers Market wraps up the season
Saturdays through October 12, 9 am-2 pm, corner of Cornell & Murray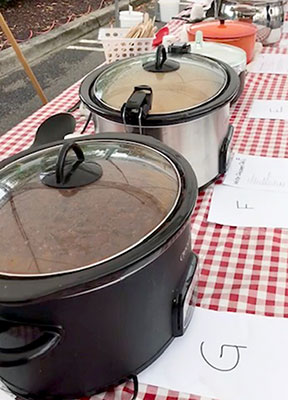 Chili cook-off entries
October is here and that means the Cedar Mill Farmers Market Season will soon be over, but the Market is still full of great stuff.
Come and stock up on lots of fresh local produce, produce, produce, and your favorite olives, kettle-corn, honey, coffee, bakery goods, fresh roasted chiles, nuts, flowers, lotions, candles, soaps, jewelry, tablecloths, baskets, tamales, and more.
The Chili Cook-Off on September 21 was great! All the chilis were delicious and it was very hard to pick a winner (personally I seriously loved every one of them and am glad to have all the recipes). It was a "double Debbie day" however with only one point between them First Place went to Debbie J's Beef, Sausage & Bean Chili, and Second Place to Debbie P's (from The Olive Branch) Grandpa's Chili. Thank you all for participating and making it a fun day!!
We love being in this community and being your farmers market! Make sure to stop by, say hello, and tell us what you liked about the market/what we can improve/what you'd like us to include (you can email us too at ourcmfm@gmail.com but we would really like to see you). And let us know if you'd like to volunteer to help next year!
A Child's Way Preschool Dance Party
Tuesdays, 10 am, 12755 NW Dogwood St., $5 suggested donation.
A Child's Way Preschool is hosting a toddler "Dance Party" every Tuesday! Micah & Me will bring their popular children's entertainment to the chapel at Christ United Methodist Church. Those attending will be inspired to move and enjoy the music! Bring your toddler and "Rock Out!"
Aaron Canwell and Ryan Chouinard (Micah & Me) have been entertaining a large following of families on the eastside for five and half years. They are stay-at-home dads with five children between them. They have been looking for an opportunity to bring their children's music to the westside and A Child's Way is happy and excited to welcome them weekly. A donation of $5 per family is suggested. Go to www.micahandmerocks.com to see them in action!
If you have questions or would like to tour/visit the Child's Way campus please call (503) 644-8407 or email achildsway@gmail.com.
Love Farm CSA Harvest Gathering
Saturday, October 12, noon-6 pm, Love Farm, 46125 NW Hillside Rd, Forest Grove
Visit the farm to take a tour of the fields and greenhouses, enjoy a potluck lunch and apple cider pressing, and meet your farmers!
Have you thought about joining a CSA? Community Supported Agriculture is a great way to get direct access to organically grown, seasonal, farm-fresh produce. Love Farm delivers to a number of convenient pickup locations around the greater Portland area, including a spot in Bonny Slope.
The 2019 season is nearly over, but this is a good opportunity to explore the idea for next year. Learn more at lovefarmorganics.com.
Cornell Farm House Plant Swap
Monday, October 14, 2:30-4 pm, 8212 SW Barnes Rd., free.
Bring cuttings, rooted propagations, and/or full plants that you would like to trade. Please label all plants with their name and make sure they are healthy.
We'll be accepting pre-orders for holiday decorations on our website! Visit www.cornellfarms.com to pre-order Christmas trees, wreaths, garlands, swags, mantle pieces, loose greens, and cut branches through the end of December.
World of Smiles Dentistry
Did you know that World Of Smiles Pediatric Dentistry has a podcast? There are 19 episodes about Mixed Dentition, a podcast dedicated to discussing important issues around children's oral health. In addition, they seek to highlight other professionals right here in the community. Some of their guests have included Dr. Jenny Brocker, a Pediatric Chiropractor; Portland Doulas Rebecca Durlin Smith and Brooke Noli, Adrienne Koznek, a Lactation Consultant, and many others! You can find it through most podcast outlets including iTunes, Spotify, and Stitcher. Check out visitworldofsmiles.com/blog to find full transcripts and video versions. Email Nicholas at media@visitworldofsmiles.com to suggest someone you would like to see featured on the podcast.
Pharmaca
Our compounding pharmacy is now officially open and ready to create your specialized medication. For those of you new to compounding, it is the customized creation of prescriptions for patients. This might involve unique dosages, flavors for children, low allergen, or liquid instead of a capsule. We are very pleased to serve the community, and happy to answer any questions you might have. We are preparing for Cold and Flu season. Our practitioners would love to help you build your immune system and our pharmacists are offering flu shots. Many insurance companies offer free flu shots so please check with yours.
Autumn Spa Day Event
Saturday, November 2, 1-5 pm, 240 NW Lost Springs Ter., free.
Get mini-makeovers and mini-facials! There will be samples, a raffle, and coupons. This is always so much fun. Please join us!
October CBD Sale
Tuesday-Saturday, October 8-12, all day, 240 NW Lost Springs Ter.
Our entire CBD inventory will be on sale. If you're curious about CBD, it's a great time to try out something new. Or get your forever favorites at a great discount!
October Supplement Sale
Tuesday-Saturday, October 15-19, all day.
All supplements will be 20% off! We look forward to seeing you in store, friends! Stay warm and well as the seasons change.
Sunset Credit Union "Cash Mob" Event
Thursday, October 17, 8:30-10:30 am, Haven Coffee, 800 NW Murray Blvd., or 11:30 am-1:30 pm, Bandito Taco/Taste of Persia, 13571 NW Cornell Rd., $2 towards purchase of all beverages/food available.
In celebration of International Credit Union Week, Sunset Credit Union will be holding a "cash mob" at two local businesses. A cash mob is a group of people who assemble at a local business to make purchases. The purpose of these 'mobs' is to support both the local businesses and the overall community.
"We've been a part of this community for over 58 years," said Rhonda Baggarley, CEO/president of Sunset Credit Union, "and we're always looking for ways to help support our local businesses. So we thought that we could encourage more people to visit these businesses by offering to help pay for their coffee or lunch for one day. Plus, it's a great way for everyone to meet the people who live and work in Cedar Mill, so we hope everyone invites their friends to join us too."
Everyone is welcome to stop by either Haven or Bandito Taco and Taste of Persia and receive $2 from Sunset Credit Union to put toward their purchase. Sunset Credit Union serves anyone who lives, works or attends school in Washington County. They are located at 1100 NW Murray Blvd. #200. To learn more, visit www.sspfcu.com or call them at (503) 643-1335.
Touchmark events
These events at Touchmark in the West Hills are open to the public. Touchmark is located adjacent to Southwest Barnes and Leahy roads at 840 SW Touchmark Way. Call 503-954-1640 to RSVP.
Parkinson's Support Group
Wednesday, October 9, 5:30 pm, free (RSVP).
This support group meets the second Wednesday of each month and is open to those living with Parkinson's as well as family members or friends.
Autumnal Celebration
Thursday, October 17, 2 pm, free (RSVP).
Welcome the colorful season of fall with live music, autumnal foods, and themed activities!
Culinary Passport: Germany
Friday, October 18, 11:30 am, free (RSVP).
Prost! It's the season of Oktoberfest celebrations and everything German. German cuisine is a tasty blend of hearty foods that include bratwurst, pork, cabbage, beets, turnips and, of course, sauerkraut. Come and experience the tastes, sounds, and more of Germany.
The Ackerly at Timberland events
RSVP required for all events—call 503-350-3400. All events held at The Ackerly, 11795 NW Cedar Falls Dr.
Senior Fitness Class
Wednesday, October 2, 16, 30, 2-2:45 pm
Fitness class geared toward 55+ age group. Focus is stretch, strength, and maintaining or increasing mobility and balance.
Introduction to Connective Well Being by Silke De Oca
Friday, October 4, 2 pm
Explore specialized techniques and activities that support healthy cognitive development through sensory integration. Sophisticated movement for instance is an excellent non-medical tool, helping the brain to mature and grow. Done rhythmically, it calms the sensory system and brain.?
Piano Performance by Monte Watters
Friday, October 11, 1 pm
Listen and sing along to classic songs performed by a true musical professional.
Music History Presentation by Gordon Neal Herman
Monday, October 14, 1:30 pm
Part historian, part entertainer, Gordon's presentations are always a highlight on our monthly calendar!
Your Clothing Solutions
Tuesday, October 15, 11 am,
Come shop with a company that brings their wares to us. Great deals on the latest styles and trends in senior fashion.
Guitar Performance
Saturday, October 19, 11 am
Come enjoy Steve West play his guitar for our community. This is an acoustic performance with vocals.
Infinity Rehab Wellness Talk: Why is Physical Therapy a Good Idea?
Thursday, October 24, 1 pm
Did you know October is National Physical Therapy Month! Physical Therapy is not just about helping someone recover from an injury or illness. Physical Therapists and Physical Therapist Assistants are experts in helping you move better, with greater confidence and more safely. Often, they can provide the skilled treatment that reduces pain, improves mobility and increases your ability to do the things you want to do. Come to this month's Infinity Rehab talk to learn more about the field of PT and the important role it should play in your life.
All Hallow's Eve Dinner
Thursday, October 31, 4-6:30 pm
The Ackerly will be serving a festive meal for Halloween. RSVP for time slots of 4, 4:30, 5, 5:30, 6, and 6:30.
Atlas Obscura book signing
Thursday, September 17, 7 pm, Powell's Cedar Hills Crossing, 3415 SW Cedar Hills Bl.
Do you love trivia? Do you enjoy having a book you can dip into for entertainment and learning? The second edition of Atlas Obscura will be published mid-October and they're inviting us to come play trivia with them!
Learn about the Museum of Clean, the museum for Jewelry Made from Human Hair, and more in this entertaining book full of photos and information.
Keep Fall a Season and not a Risk
Monday, October 14, 6:30-8 pm, St. Pius X Community Center, 1280 NW Saltzman Rd.
Alice Holland, owner of Stride Strong Physical Therapy, is presenting a talk on "fall prevention," to help us stay on our feet! Free, no signup required. Sponsored by St. Pius Women's Club.
Visit the farm, reserve your turkey
Saturday, October 12, 10-11:30 am, Marion Acres, 23137 NW West Union Rd., $5 adults, kids free.
Tour Marion Acres Farm during their last event of the year. Learn about their methods and meet the animals. They provide fresh, locally raised pastured turkey and chicken, eggs, and more at their farm store on West Union in Helvetia.
They are taking orders now for your holiday turkey. Visit the website for more information and to order.
How to survive a kitchen remodel

You've picked out your new appliances, made your selections, hired your designer/contractor, and have set a start date! Congratulations—you've made one of the best decisions of your life, and with a little planning, and an occasional glass of wine, the process can even be, sort of, fun. Think of it as an adventure—that's a good place to start!
Give yourself as much time as possible to pack up your kitchen, and maybe plan a vacation or two. You will be without a kitchen for approximately 10-12 weeks. The absolute minimum will be eight weeks, and 12-14 weeks if your project is large, complicated, or if unforeseen problems pop up—which will be the case approximately 70% of the time.
If you can—move out during the entire construction time. This is the best strategy! If you can't move out, here are my Top Three suggestions to make this process manageable as possible:
Identify a room (basements and bonus rooms are ideal) to set up a makeshift kitchen and eating area.
Identify a water source where you can wash fruit, veggies and dishes.
Plan some sort of vacation during the construction process, even if it's just for a few days.
If you're staying home, keep meals simple. Include takeout food and a few restaurant meals into your budget. Getting to know the prepared food section at your local market will definitely be a must.
Keep things in perspective. The process may be intrusive, noisy and a little dusty, and the process may become tedious. But the problems will get solved, the work will be done, and in the end you will have a fabulous new kitchen—a space that will be lovely to look at, a joy to cook in, and a stylish place to entertain family and friends. It will also increase the quality of your life and the value of your home. How great will that be? Just remember—be flexible and hang in there.
Caryl Hoffman owns CK Hoffman Design, a local Design + Build firm. Follow her on instagram @the_curated_home_pdx, or on FaceBook at CK Hoffman. More information is available on her website: www.ckhoffmandesign.com.
Village Gallery of Arts
The Art Challenge Show closes December 24th. For more details and information please check our website, call the Gallery, or drop by and pick up a flyer.
October Award Show
Sunday, October 13, 2-4 pm, 12505 NW Cornell Rd. #13, free.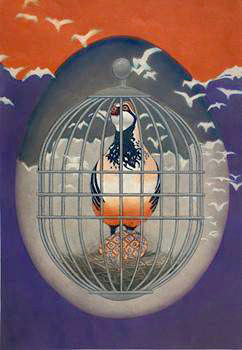 Mrs. Faberge by juror Richard Helmick
October is when Active and Participating Members of the Gallery are eligible to enter this juried award show that is held in place of the usual Featured Artist and Crafter of the Month show. Prizes will be awarded, and we have an exceptional juror, Richard Helmick, CPSA CPX, to judge the show. Helmick is co-president of the Portland Chapter of the Colored Pencil Society of America, among many other honors and achievements, and his work has been accepted into many national and international juried exhibitions, and is included in many public and private collections. Come to the reception and enjoy refreshments, meet the winning artists and see all the artwork!
Cash & Carry Art Sale
Saturday, October 26, 10 am until sold out.
Hundreds of original 6"x 6" artworks and festive wreaths! Works by talented local artists of all ages— students and professionals. You'll leave with something you love! New art displayed every day! Come several times to see what's new! Great holiday gift ideas!
Artist Reception and Prize Awards
Sunday, November 10, 2-4 pm, free.
Prizes awarded for Most Original Wreath and Most Original Panel, by Village Gallery Board of Directors. Come enjoy refreshments and see the winning artworks!
Cedar Mill Farmers Market Booth
Saturdays, October 5 & 12, 9 am-2 pm, corner of Cornell & Murray
The Village Gallery of Arts, as a member of the Cedar Mill Business Association, will have artists demonstrating at a booth. There will be art for sale and information about the Gallery, art classes, and community art events.
Washington County Open Studios
Saturday and Sunday, October 19-20, 11 am-5 pm, 12505 NW Cornell Rd. #13.
Village Gallery of Arts will be open for the Washington County Open Studios. A big thank you to the artists who have signed up to do these demonstrations.
This is a great opportunity to meet local artists, compare notes, and perhaps learn about working with media you may not have tried or seen before. Visit on Saturday between 11 am and 2 pm to see Medha Joshi using alcohol inks and Emily Stevens demonstrating textile painting. In the afternoon you can catch Debbie Teeter working with pastels and Susan Pfahl's calligraphy. On Sunday, at 11 am, Rose West will be making folding cards and Robin Skinner will be working with colored pencils. That afternoon Chris Boyer will demonstrate felting and Jo Reimer will create collages. We will post the full list in the gallery and update it as artists make the final decision on what they plan to demonstrate.
Come to visit with your local artists and bring your neighbors and friends!
Classes and Workshops
Debbie Teeter: Children's Art Classes
Thursdays, 3:45-4:45 pm, ages 7-11, two 4 week courses
Come join an exciting class learning a variety of art forms. Debbie will be developing each child's art ability and providing them an opportunity to build their skills and explore different media and approaches, so they can find out what they will enjoy. Each lesson will explore both art concepts and techniques. Activities may include drawing, painting, sculpture, and mixed media. Subject matter will include people, faces, landscapes, plants, animals, and exploring subject matter in imaginative ways. Classes fill quickly; call the Gallery or visit the website for more information.
Children's Shodo Classes
Mondays, 4:30-6 pm OR 6:30-8 pm, ages 6-14 years old, three 3-week courses
Kids express creativity and build concentration by writing and drawing using Japanese Calligraphy techniques. Children will learn the basics of how to write Japanese characters or English characters with the Calligraphy brush in their own style. Kids will be taught the fundamentals of the ancient Zen art of Shodo; which is not just the way of calligraphy, but also teaches concentration, meditative calm and attention, and expression of oneself through the brush. Call or visit website for class supply list and more information.
Mary Burgess: Elements of the Desert Landscape in Watercolor,
Wednesdays, 9:30 am-12:30 pm OR 6-9 pm, 6-week course, mornings or evenings
Some experience with watercolor helpful. Using traditional watercolor techniques, students will learn how to paint skies, rocks, and plants of the desert landscape. Working from provided reference images, or your own, we will capture the essence of land features found in Oregon's high desert, and the magnificent land-forms and unique colors of the American Southwest through structured lessons and practice. Demonstrations, critiques and exercises at the beginning of class will reinforce each concept.
Mary Lehner: Freshen Up Your Watercolor Painting
Mondays, 9:30 am-12:30 pm, 5 week course
Intermediate to Advanced painters: Are you ready to take your painting skills to the next level and bring passion to your watercolors? Join Mary Lehner to explore fresh ways to invigorate your style. She will demonstrate and discuss the journey from static to lively interpretations in watercolor. This class is not so much about technique as it is about letting the watercolor medium work to your advantage by slowly learning to "go with the flow." Using landscape and seascape photo research supplied by the the teacher, students will learn to "see" the subject matter in a new light, use looseness and color contrast to enhance dimensionality, and use light, shadow, color reflections and composition to learn to paint in a visually expressive and interpretive style.
Rosé & Monet with Virginia Sumner and Lori McLaughlin
Saturday, October 12, 5-7 pm, must be 21 to register.
Imagine sitting next to friends with a glass of wine and a paintbrush or two; having good conversation and creating a fantastic painting of Monet's "Water Lilies." Sign up and have good wine, good friends, and a great painting to conclude the evening. Come join us for a creative and fun evening! All materials provided.
Jo Reimer: Layer Upon Layer
Thursdays, 9:30 am-1:30 pm, 4 week course
Take a deeper dive into collage in this fast-paced, fun, and challenging 4-session class. Explore ways in which the beginning or more advanced artist can make a collage painting one step at a time. You'll focus on working in a small series, working on at least three collage paintings, up to six at a time. Paper is king, so we'll talk about selecting and collecting papers, and explore beginnings, building backgrounds, and designing the collage. As layers are added, we'll focus on value, design and color, as you learn to tell your story through line, text and images. The final layer is varnishes and cold wax. Frequent demonstrations will show you the way and one-on-one help is always at hand. Expect to do some homework to prepare yourself for efficient in-class exercises. Play and learn, finishing at least three successful collage paintings to sell, gift or keep.
Book Binding with Virginia Sumner
Saturday, November 9, 9 am-12 pm, ages 14+.
This is a hands-on class culminating in the creation of a sturdy yet delightful journal. We will be exploring the case binding method. Construction consists of two parts: the signature block and the case. Along the way we will create signatures, sew them into a block, add a header band and an optional ribbon page marker, and create the covers and spine for a finished book. The kits are prepackaged and there will be a variety of styles to choose from.
Liz Walker: Suminagashi Paper Marbling Workshop
Saturday, November 16, 10 am-2:30 pm, bring a sack lunch.
Explore this fascinating Japanese paper marbling technique using water-based sumi inks floated on plain tap water. Suminagashi literally means "spilled ink." Create intricate, patterned rice papers using this ancient and meditative technique. Sumi marbled rice papers can be later used to create collages, greeting cards, and original paintings. Quick and easy, each marbled paper is one-of-a kind. No prior experience needed—all levels welcome. Inks and rice papers are included in the supply fee.
Virginia Sumner: Fun With Acrylics Workshop
Saturday, November 23, 9 am-1 pm.
Explore acrylics with childlike abandon in this workshop. We will loosen up our painting style and sample mono printing, glazing, resist, texture pastes and mark making, building layers on pieces we create and adding visual interest and depth as the afternoon progresses. Join the fun, try something new, make friends, come play with acrylics!
Gretha Lindwood: Beyond Basics—Further Exploration of Soft Pastels
Saturday & Sunday, December 7 & 8, 9 am- 1 pm, ages 18+.
For Strong Beginner and Intermediate Pastellists— Soft pastels only, not oil pastels.
Express your impressions of the natural world using soft pastels. You will apply the principals of color, value and design in this fun, informative class as you continue to develop your personal style and gain a deeper understanding of the medium. You will work from your own photos while interpreting with your own "artistic voice." Demonstrations and individual instruction will be given as Gretha shares tips, techniques and ideas.
For more details and information on any of these events, please check our website or call the Gallery: www.villagegalleryarts.org, 503-644-8001.