Handwriting Success began in Cedar Mill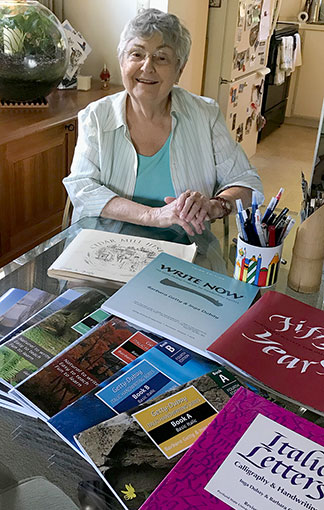 Barbara Getty in her Millridge home, with some of the many books she has worked on
Barbara Getty started teaching third grade at Sunset Valley Elementary in 1959. The school, which replaced the old two-room Union School House, was located on Murray Road more or less where Home Depot is now, and served students from first to eighth grade. She taught third, and then second-graders until 1966.
She took a break from teaching, traveling to Turkey to teach English where she met her future husband, and then to Pennsylvania, her husband's home state. She returned to the Cedar Mill area and took a calligraphy workshop at Oregon School of Art and Craft in 1970, where she met Inge Dubay. Lloyd Reynolds, who taught at Reed College from 1929-1969, was also in the class.
Dubay and Getty began to see that young students would do better to learn Italic handwriting rather than cursive. Getty had been interested in letterforms all her life, and got a "Speedball C2" pen in high school. Dubay had also been fascinated by lettering from an early age.
They studied under Lloyd Reynolds at the school that would become Pacific Northwest College of Art (PNCA) where he advised them to "share the art." His calligraphy and design classes at Reed helped inspire Steve Jobs to include a variety of fonts on Apple computers. He spoke about children being "crippled" by bad handwriting, and it inspired Getty to follow up on his advice.
Both of them began teaching their students to use Italic handwriting—Dubay at Metropolitan Learning Center (MLC) and Getty at Aloha Park, where she taught from 1971-1977. In 1976, they started to work together to create a series of manuals that would enable others to teach italic writing.
As they were working on the manuals, Getty began teaching other Beaverton district teachers the italic method at PCC Rock Creek. Several BSD schools adopted the Italic method to teach handwriting.
They self-published their series in 1979. A successful pilot program in seven Oregon schools in Beaverton, Portland, and Eugene demonstrated that their method was effective. At that point, they realized that they needed a "real publisher." After pounding the pavement in New York City, they found their solution closer to home. Portland State University's Continuing Education Press took on the project and the business was on its way.
They traveled around Oregon to promote Italic handwriting to the state's textbook commissioners, and in 1980 the Italic Handwriting Series was adopted as one of five options that districts could purchase with state funds. In 1983, Portland Public Schools adopted the method. My own children were beneficiaries of this. Their learning experience was so much better than mine—I flunked penmanship in second grade!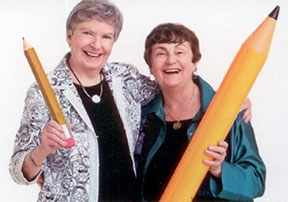 Inge Dubay and Barbara Getty in a publicity shot from their brochure
An article in Time Magazine praising their methods gave the series a big boost. PSU's press continued to publish it until 2009, when the press ceased operations. By then, they were ready to form Getty-Dubay Productions to provide the series to their growing audiences. Their book for adults, Italic Letters: Calligraphy & Handwriting, was published by Van Nostrand Reinhold in 1984.
In 1991, they co-authored a manual for adults titled Write Now: The Getty-Dubay Program for Handwriting Success. A Wall Street Journal article again brought them fame and more interest in their methods. It attracted interest from the medical community, where a doctor's penmanship could mean life or death. They conducted seminars around the world, receiving praise for saving lives. These days, prescriptions must be in digital form, but we all need to handwrite some things, and learning to write comfortably and legibly is still important.
In July 2018 Dubay's son, Jonathan Dubay, took over the business, which is now publishing the fourth edition of the series, which includes seven manuals and a teaching guide. It's used around the world, and is also making a comeback in local schools. Barbara and Inga had created a website that helps to continue the spread of their method: handwritingsuccess.com.
Barbara Getty has been a resident of Cedar Mill since 1963, and has lived int the Millridge condos since 199. I first met her when her neighbor, Nancy Olson, introduced us. Olson was the co-author of Cedar Mill History. Getty created the original captions for the images that Olson would take around to elementary schools to introduce students to local history. These are now part of the Cedar Mill Historical Society collection.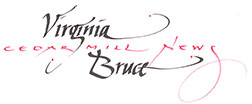 Barbara Getty sent materials for this story in an envelope with a calligraphy address!
Now in her eighties, Getty still practices her art. She says, "Calligraphy is meditative. You're by yourself, you get centered. I often wake up thinking about letters."