CPO 1 News October 2019
CPO 1 October meeting
Tuesday, October 8, 7-9 pm, Leedy Grange Hall, 835 NW Saltzman
Metro Council District 4 Representative Juan Carlos Gonzalez will visit to give us a Metro update. His presentation will include a brief overview of the regional investment strategies to include, housing, parks and transportation. He will also talk about a Metro Bond Measure on the November 5 ballot, 26-203: Bonds to protect water quality, fish, wildlife habitat, natural areas.
Dyami Valentine, Senior Planner at Washington County Land Use and Transportation, will share information about the "Last Mile" project that is underway. A team is developing strategies to make transit safe, accessible and viable for all who live, work and visit Washington County. The project team is preparing a report to address the following:
Identifying priority locations to implement first and last mile transit access projects, programs and partnerships, including: bicycle and pedestrian improvements; on-demand transportation (shuttles, microtransit, ridesharing, carsharing, bikesharing, ridesourcing, and mobility hubs);
A community summit and open house are planned. Learn more on the county website here, and in this article from the August Cedar Mill News.
The meeting will be live-streamed on the CPO 1 Facebook page, and also available for viewing after the meeting. Like our page for timely updates.
The Cedar Mill Library has CPO meeting notices, neighborhood meeting notices, and other information available. Find the information in the Community area on the mezzanine in the northeast corner of the library, or check with the reference desk for assistance.
Ordinance updates
To learn about this season's ordinances, which adopt, amend, or repeal land use laws, visit the county website. Several ordinances have an effect on our community, including one on Accessory Dwelling Units and one outlining requirements for Telecommunication facilities (including cell towers).
Accessory Dwelling Units, Ordinance 859
The ordinance was adopted by the Board of Commissioners (BCC) on September 17.
CPO members had asked that the Ordinance include a requirement for the property owner requesting a permit for an ADU be required to dedicate Right-of-Way along any adjacent county road as part of the permit process, but the county continues to claim that it would be a "taking." We will continue to push for ROW acquisition (for future sidewalks) in any land use action where it is feasible, since we feel that by requiring a dedication the county can save money when and if a sidewalk is built. Sidewalk gaps in the county are a barrier to transit use, school access, and simple neighbor interactions.
If this interests you, please consider joining our "Code Group," which meets monthly to shape, and influence County code by studying issues, gathering input from the community, and requesting action. The group is open to anyone who wants to help. We generally meet one afternoon each month over Happy Hour at Rock Creek Corner. Contact Virginia Bruce at vrb@teamweb.com if you're interested in joining our effort!

The "cantenna" design minimizes the visual clutter of a cell tower.
Telecommunications facilities (cell towers)
in the Right-of-Way, Ordinance 856
This Ordinance responds to Federal Communications Commission requirements for jurisdictions to make rules that allow providers to install these facilities. We are learning that 5G technology requires transmitting devices to be installed in communities as close as every 500 feet. FCC regulations prohibit jurisdictions from placing undue limits on them.
About all we can do is ask that the devices be "stealth"—as unobtrusive as possible. At their September meeting, members of CPO 1 voted to send a letter of comment to the BCC. CPO 1 chair Virginia Bruce testified to the BCC at the September 17 meeting.
In addition, there is controversy about who should pay to relocate them if future development affects them. You can read the Ordinance as filed, along with comments that have been submitted by Comcast, Verizon, and CPO 1 on the county ordinance page.
UPDATE: The ordinance has been "engrossed" or changed. The changes are minor and do not speak to relocation costs. Melissa DeLyser, LUT Communications Mgr., says, "Telecommunication cost allocation is not typically addressed by local land use regulations, since state and federal laws already address the attachment and siting of telecommunication and electrical transmission equipment. In addition, cities typically use franchise and lease agreements to address relocation responsibilities, including costs, when equipment is located in city roads or on city owned streetlights. A-Engrossed Ordinance No. 856 was amended to allow the Board to consider lease agreements in the future."
The county is asking for more public comment on the draft rules proposed for wireless telecommunication facilities in County road rights-of-way.
The draft rules are available here as a PDF file. Email comments through 5 pm, October 15.
LUT's issue paper Telecommunication Facilities Located in the Right-of-Way identifies the need to amend County right-of-way permitting rules and the Community Development Code to accommodate federally required small wireless facilities.
First and Last Mile Community Summit
Wednesday, October 16, 6-8 pm, Beaverton City Hall, 12725 SW Millikan Way, Beaverton
Washington County Land Use & Transportation (LUT) launched the First and Last Mile Project (FLM) to develop strategies for improving access to public transportation in the County. The project aims to make transit a safe, convenient and viable option for everyone who lives, works and visits the area. View the summit agenda here.
In addition to formal presentations and a question-and-answer period, the summit agenda will include small-group sessions where participants will discuss strategies to improve first-and-last-mile access to transit. The project team will consider feedback from these sessions when developing recommendations.
A Spanish interpreter will be available at the summit. For an interpreter in languages other than Spanish or a sign language interpreter, please call 503-846-3424 (or 7-1-1 for Telecommunications Relay Service) at least 48 hours prior to this event.
Learn more at First and Last Mile or email Long Range Planning. An online open house is also on that page.
Stephen Roberts appointed director of Land Use & Transportation
Stephen Roberts was named as the Director of Washington County's Department of Land Use & Transportation (LUT) in late September. Roberts has been serving as the department's interim director since early June (when former Director Andrew Singelakis left), and as Assistant Director since January 2017. A national recruitment process took place.
Roberts has served the department in various roles since 2007, including work in the Planning and Development Services Division and the Director's Office. Prior to joining Washington County, Roberts was a city planner for 10 years for the City of Richardson, Texas, a 100,000-population community north of Dallas.
"Stephen has done an outstanding job during his 12 years with Washington County, including the past several months as Interim Director of the Department," said Davis. "He has successfully led several challenging transportation and land use planning projects and has established very positive relationships throughout the county. We are pleased to announce that Stephen will be our new Director and look forward to working with him."
Washington County's Department of Land Use & Transportation is responsible for a wide range of transportation, planning, permitting and road-maintenance services. The department is supported by an annual budget of $438.9 million and is staffed by 345 full-time-equivalent positions.
[Personal note: I have known Stephen for many years and very much look forward to working with him to bring information to our community and to help him understand our issues—vb]
Neighborhood Meetings
Neighborhood meetings are informational meetings on preliminary development plans, for the applicant and surrounding property owners/residents to review the proposal and identify issues before the formal application is turned in to the County.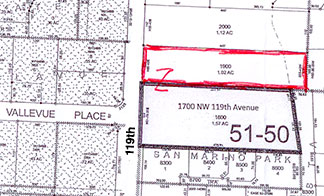 Revised proposal with newly-added property
Revised 13-lot proposed development
Tuesday, October 8, 65:30 pm, TVFR Station 60, 8585 NW Johnson St.
Pioneer Design Group is representing the developer of property located at 1700 and 1770 NW 119th Avenue. The developer is now proposing a 13-lot subdivision for single family detached homes, with the addition of Tax Lot 1900 to the application.