SAMBA hosts Sunset Classic

Saturday, October 12, 11 am preliminaries; 4 pm finals, Sunset High field, Adults $15, Students and Seniors $10, Children 6-12 $5, Under 6 free
Sunset Apollo Marching Band and Auxiliary (SAMBA) is Sunset High School's competitive marching band and colorguard sports team. Founded in 1987, Sunset's band has performed in various competitions, such as Music in Motion in Seattle, Washington; OrlandoFest in Orlando, Florida; and other local competitions at high schools or at Ron Tonkin Field. SAMBA members work vigorously from August to October to put on a seven-minute show full of music, dance, and colors. Because of this, SAMBA is proud to be the local marching band circuit's defending AA class champions.
Due to the lack of funding from the school, SAMBA must fundraise most of the money for the program. Throughout the year, there will be fundraisers asking the community for support. This can be selling plants and flowers, asking for donations, or simply asking for cans and bottles. SAMBA holds a can and bottle drive at Sunset High School every second Saturday of each month (in October this will be Sunday Oct. 13 because of the Sunset Classic).
Another important fundraiser is the Sunset Classic. Every year, SAMBA hosts the competition. It has been a tradition lasting over thirty years. Not only will various marching bands come to Sunset High School to compete and learn from each other, but the Sunset Classic is also SAMBA's largest fundraiser. Money from concessions and ticket sales goes to SAMBA to keep the band program strong.
This year is very special because Sunset Classic spectators will receive a pass to the Columbia Employee Store when they purchase their Sunset Classic ticket onsite at the event. The Columbia Employee Store pass will be good for access from October 12-November 3, 2019.
It's important now more than ever to fill every seat, so whether or not this is the first time hearing about SAMBA or marching band competitions, please come to the Sunset Classic, October 12, at Sunset High School and enjoy the show local students work so hard to perform.
For those high school students who are interested in joining marching band or colorguard, they have an opportunity to sign up after classes in June. No marching band experience is required. Dates will be posted closer to the end of the school year.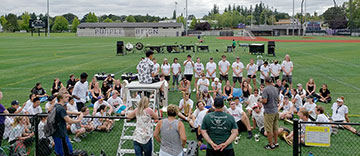 SAMBA students begin to meet and practice in the summer.
Especially for freshmen, it's really nice to join the marching band and colorguard because practices start before the first day of school, so freshmen can know a friendly face in the hall when school starts. Even after graduation, students come back to help out the band. Students always end up falling in love with marching band.
Once the fall season ends, students are no longer just teammates. They get to know each other, experience so much challenge and success together, and the band becomes a second family. "It's really nice to have somewhere to come after school where everyone kind of gets you," said Nadia, a member of the colorguard.
Also, students learn many lessons that they will use for the rest of their life. Other members of the band mentioned how they've learned how to manage their time, to know it's okay to make mistakes, and to ask for help when needed. "It really opened my eyes on how to work with other people and explore what I can do," another colorguard member, Liam, said.
Marching band and colorguard is a one-of-a-kind experience. SAMBA couldn't exist without community support, volunteers, and brilliant students. The band thanks all volunteers, guests, and bands that will be going to the competition. SAMBA also thanks those who donated when the band came to play in their neighborhoods, everyone who donated their cans and bottles, the poster sponsors, and all other supporters of the band.