The Nature of Cedar Mill


Gift giving


We have just experienced the traditional season of gift giving. At this time of year, we may receive advice on gifting etiquette for co-workers, bosses, neighbors, service workers and family members. There are recommendations regarding the "best" gift of the season for video gamers, athletes, cooks, and the not so subtle reminder from the newspaper delivery person about where to send the requisite "tip" (i.e. holiday gift). We get impersonal form letters from work extolling our contributions with a small token gift card. Office mates bake for each other. Neighbors discern what would be appreciated in the form of food or other gifts. People who knit work all year on gifts which require time to finish. Others regift a bunch of stuff they find in their garages.

In the natural world, some biologists write about exchanges that occur in various species. Most of the writing is about mating rituals, especially in spiders. If one is observant, one can see exchanges of "gifts" in many species—and we humans interpret this behavior as "mating rituals" or "feeding juveniles" but I wonder if there might be other interpretations of this kind of activity.

Recently on a trip to Sisters, Oregon, there was a persistent couple of weeks of very cold weather for that region, which left the ground frozen with snow and ice. Most bird watchers know that unusual weather brings opportunities for unusual bird activity. Many birds come down from their typical higher elevation habitat in search of warmer surroundings, and of course, food or water. Many birds that might be migrating or moving around search for shelter. Going outside with binoculars on such unusual weather days is generally rewarding.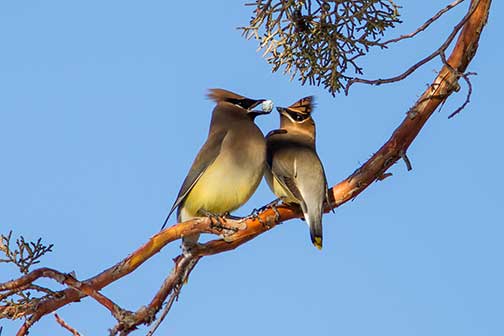 Cedar Waxwings and Juniper Berry - Sisters, Oregon - December 2013
Photo ©2013 by Jeff Young.
What we saw was indeed amazing. We saw huge flocks of Mountain Bluebirds, Cedar Waxwings and American Robins feasting on plump juniper berries. Some birders I have taken out on bird tours simply want to check birds off their list and then go accumulate "more numbers" for that day of birding. That certainly is one method of bird watching. Personally, I enjoy seeing what the birds are doing, and so generally stay to watch them. What my husband and I saw that day was quite intriguing.
We watched as adult birds picked a very plump berry and then fed it to another adult. At some times of course they ate the berries themselves but often they "gifted" another bird with a particularly yummy treat. And so I wondered--- what is this behavior, since it is certainly not spring yet and no mating will happen for quite a long time.
From an interpersonal neurobiology point of view, reciprocal gift giving might just encourage bonding over the entire season. Feelings of mutual appreciation, recognition of mutual dependency or even affection might be involved. We don't know of course, but having positive memories of others might be involved in the giving of gifts.
Over this season I read lots of "advice" columns in magazine or newspapers about what to do when one receives a gift that is not "optimal" however that is defined. The advice generally falls into the pabulum of recognizing the thought behind the gift to reframe the meaning of the gift. I would suggest that certainly that might fit some situations. In other situations, there is not a particular thought behind the gift, and that is a valuable, symbolic, authentic understanding as well that needs to be honored. I wonder if other creatures have such complex social thoughts about the proffered juniper berry that we do about the gifts we receive or give.
Bird watching can lead to innumerable musings about the meanings of behavior and of life. Biologists tend to categorize behaviors in terms of simplistic things like mating or feeding young—but this observed behavior was not in mating season and certainly was not about feeding babies… so what does it mean?
Lauretta Young MD is the current director of the OHSU Student resiliency program and past chief of mental health at Kaiser. She also takes people out to observe birds—see her web site at: portlandbirdwatching.com. More of her husband's photos can be found here on Flickr.