New McMenamins Cedar Hills Pub celebrates former airport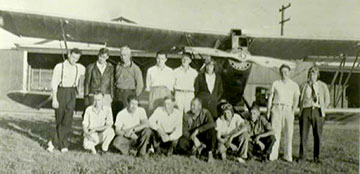 The Boys of Bernard's Field, Oregon Pilot's Association, 1937 or 1938. City of Beaverton photo.
Take in the soaring ceilings, lofty windows and garage-style doors that create the sensation of standing underneath an open sky. Then, elsewhere in the pub, you can experience quite the opposite in a diminutive, clubhouse-like gathering spot.
The pub features 40 handcrafted ales and ciders on tap (including McMenamins and guest taps), making it one of a few places in the area you'll find such a vast selection. The large room features a round bar surrounded by cozy booths. And there's an indoor/outdoor fireplace to cozy up to this winter, along with meeting and event spaces and an extended patio with fire pits.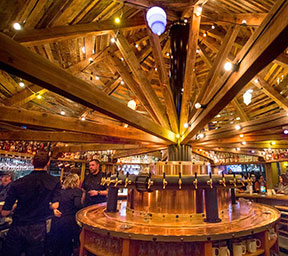 McMenamins new Cedar Hills Pub features a large round bar with 40 taps of beer and cider from McMenamins and guest breweries and cideries. Above the bar is a large propeller that once belonged to pioneering Portland pilot Tex Rankin.
These varying spaces bring to mind the old Bernard Airport that defined the neighborhood's adventurous spirit and independent nature from the late 1920s to late 1960s, with its wide-open runway, lined by individual hangars that were very much like clubhouses for the pilots, mechanics and enthusiasts. And right here, on the pub site, was where part of Glider Ridge sat, from which those motor-less, winged craft would launch in the early days.
In 1929, farmer, car dealer and aviation fanatic, Charlie Bernard formally converted a 4,000-foot strip from his pasture into a non-commercial airport. He immediately began building the first of 40 hangars that soon lined the runway. Charlie's friend and mechanical genius, George Yates, got on board in the beginning, establishing Yates Aircraft Corporation, which thrived here for 30+ years.
Bernard Airport, and Yates' presence in particular, attracted other innovative, amateur pilots and airplane builders, and it soon became a regional center for amateur pilots and aircraft manufacturers. Because of the resolute character of these folks, as well as Oregon's early-day, state-sponsored pilot licensing (which circumnavigated the more common federal licensing), these Bernard Airport pioneers were dubbed the "Beaverton Outlaws."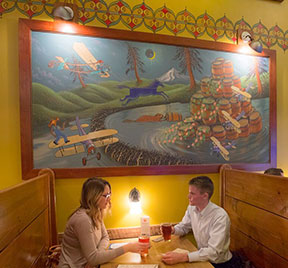 McMenamins artist Lyle Hehn created a new piece for the location which includes a nod to its airplane hangar history and recent solar eclipse. The pub features original site-specific artwork throughout.
Change was in the wind, though, beginning in the mid-1950s, with the growth of Beaverton, and, in particular, the expansion and relocation of Tektronix just to the west of this site. Urbanization—residential and commercial—soon surrounded the long-running amateur Bernard Airport, making its presence (and air traffic) undesirable to many. As the '50s moved into the '60s, there were periodic complaints from homeowners, but in the end, it was the skyrocketing property taxes that forced the airport to close in 1969. As hard as that was, the Bernard family went with the changing tide, partnered with a developer and created Bernard's Beaverton Mall, which of course became a community anchor of a different sort.
McMenamins first came to this neighborhood in 1992, opening the Cedar Hills Pub almost due south (on the other side of Jenkins Road) from this new location. That first building had originally been North's Chuck Wagon restaurant, part of the earliest development of the Beaverton Mall, now Cedar Hills Crossing.
Through artwork, historic photos and even some relics, we celebrate the Bernard Airport's important role in the dashing, romantic, early era of flight in Oregon and beyond.
This is a first draft of the Cedar Hills Pub history sheet. If you have corrections or stories to add for the final version, please contact Tim Hills at past@mcmenamins.com or 503-223-0109.