How to recycle plastics

Recycling is a great way to help protect the environment, but it's important to do it right! The first step is to determine if an item is accepted in your mixed recycling bin. Recycling can vary by location, but the rules are the same across the Portland Metro region, which includes Washington County.
There are many local resources that can help when you have a question about recycling: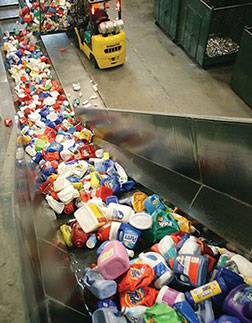 A typical section of a Materials Recovery Facility (not Washington County)
Washington County Solid Waste & Recycling (SWR) provides a website and an app called Garbage and Recycling Day where you can look up your hauler and collection schedule, find out about upcoming community collection events in your area and search a database of thousands of items for disposal options. You can also call SWR at 503-846-3605.
Metro's Recycling Information Center can be reached at 503-234-3000, or you can send a picture to their @RecycleorNot Instagram account.
Remember that you can't use the "chasing arrows around a number" symbol to decide if something can go in the mixed recycling bin or not. That symbol indicates what the product is made of, not if it is accepted in the mixed recycling where you live. And if you're not sure, it's better to throw it out than to put the wrong thing in the recycling bin and cause contamination.
"Contamination" is the term used when there are things in your recycling bin that shouldn't be there. When that happens at home, you might find an "Oops" tag from the collection company on your bin letting you know what the contaminants were. If there is a lot of contamination you might find that your recycling won't be picked up by the collection company, or the entire load might get rejected and sent to the landfill instead. Contamination makes the recycling process less efficient and more expensive because extra time, energy, and labor are required to remove and dispose of contamination. And if some of those non-recyclable items make it through the sorting process, contaminated recycling can cause a lot of environmental problems when it is exported to other places for processing.
To understand why certain items aren't accepted in the mixed recycling, it's helpful to know more about what happens to your recycling after it gets picked up. Recycling is collected from your home and goes to a materials recovery facility (MRF) where it is sorted into separate streams like paper, metal, plastics, etc. Certain items aren't allowed in your recycling because when they go through the sorting process, they can damage equipment, slow down work, and even endanger employees. For example, plastic bags shouldn't go in your recycling bin because they get wrapped around the machinery, requiring the MRF to temporarily shut down while the material is cut out and discarded. Other items like textiles, string lights, and cords can cause the same problem. Another issue is batteries and items that contain batteries (like a musical greeting card or a toy) because they can start fires.
Other materials, including many kinds of plastics, are not accepted in the recycling because the material is low-grade, low-value, and difficult to recycle. This includes things like "clamshells" (hinged plastic containers that hold produce like salad or berries), to-go containers, plastic cups, etc. Other items are not accepted because they are made of multiple materials that are very difficult to separate from each other. For example, disposable coffee cups are not accepted because they have a liner that prevents the liquid from soaking through that can't be easily separated from the paper.
After the recycling has been sorted, it is sold in large bales to companies that process them so that the materials can be used to create new products. Since China started putting limits on what level of contamination they would accept in recycling, the recycling industry has been experiencing a lot of change. Before, recycling was profitable for collection companies and MRFs, but now it can cost money to process recyclables.
Recycling is still good for the environment! It saves resources and energy and creates good jobs. And here in the Portland Metro area, what is and is not accepted in the mixed recycling bin has not changed. Just remember that recycling right is more important than recycling more. Take a minute to check if an item can go in the mixed recycling or not. It won't take long, but it will make a difference for our recycling systems and our environment. Learn more or schedule a presentation about recycling by contacting SWR at recycle@co.washington.or.us or 503-846-3605.