Japanese Beetle Update

Last spring, the Oregon Department of Agriculture's Integrated Pest Prevention & Management (IPPM) program continued its multi-year effort to eradicate the Japanese beetle. From April to June, ODA applied a granular larvicide treatment to approximately 8,500 residences, six schools, eight parks, three shopping centers, and a golf course, all located in Washington County. Treatment consisted of one granular larvicide treatment applied to all grass lawns and/or ornamental planting beds in areas where beetles were detected in 2018. Acelepryn® G is a "reduced risk" targeted larvicide that kills certain pests in their larval state in the soil. It is not considered to be a health risk for humans, pets, wildlife, including pollinators, when applied according to label directions.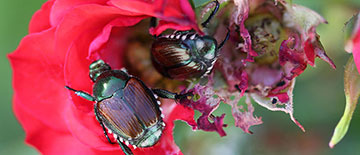 Last year, for the first time, the granular treatment (Acelepryn® G) was supplemented with an Acelepryn® spray applied to leaves (foliar spray) in areas with higher Japanese beetle populations. The treatment was sprayed in late June on non-edible ornamental trees, shrubs and plants that are known Japanese beetle hosts. As a result, there was a 75% decrease in Japanese beetle catches within the boundary.
Overall there was a 56% reduction of Japanese beetles caught statewide. In the eradication zone, Japanese beetle populations dropped 65% in 2019. During the 2019 season 7,749 Japanese beetles were caught in the Cedar Mill area. The impact of last year's eradication will not be known until Fall of 2020.
This is a multi-year project. ODA will know the 2020 treatment area boundary in early January. Although the area was treated, residents may find adult beetles on their property for the next few years.
If Japanese beetle establishes in Oregon, it will be a huge threat to agriculture. An economic analysis conducted by ODA concluded that farmers would spend an estimated $43 million annually to combat Japanese beetle. Restrictions on farming exports would hurt Oregon's economy. In addition, homeowners, parks, schools and golf courses could expect to see severe damage to lawns and landscaping. Without the cooperation of the residents in the treatment area this project would not be possible. Roughly 95% of residents consented to the granular treatment last year. Thank you to the residents of Cedar Mill for your support in helping eradicate this invasive and destructive pest!
For more information on the Japanese beetle eradication project visit www.JapaneseBeetlePDX.info. Please do not hesitate to contact ODA by calling 1-800-525-0137 or emailing: japanesebeetle@oda.state.or.us.
We are currently planning a larger treatment boundary for the 2020 eradication and will update everyone soon with the new map.