STEAM Minecraft at BestHQ

by Genevieve Coblentz, CMN Managing Editor
Every month, BESThq, a collaborative business community and executive development center based in Beaverton, hosts a monthly STEAM (science, technology, engineering, art, and math) Minecraft event. Over the past three years, this fun, creative, and confidence-building program, overseen by Ron White, has helped nearly 1000 kids of all abilities learn teamwork, problem solving, public speaking, and leadership skills. The STEAM Minecraft program focuses on inclusivity and welcomes kids of all genders and abilities.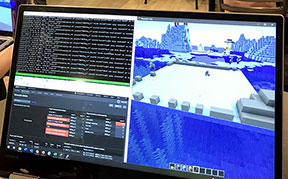 A minecraft building screen
Kids from grades 3-8 develop communication skills by working in groups to build projects in Minecraft, a video game where people can use blocks to build a wide variety of objects. They work in small groups to brainstorm a common thing that they want to build. Every month there is a new theme that the kids can base their creations on. In November, the theme was "what we are grateful for". The kids really took this theme to heart and ran with it. One group made a whole turkey dinner, with pumpkin pie, of course.
Before each event, Luis Lopez and other BESThq employees work hard to set up 20 computers, donated by Intel, and the Minecraft server, so that they are ready when the kids arrive. The room is full of energy and excitement as the kids sign in and find a seat.
"I like that I can let my creativity run wild!", says Jazzy, a frequent participant in the monthly STEAM Minecraft events. Every event kicks off with a short presentation from a STEAM professional, followed by an introduction of the month's creative theme. The STEAM professionals share what they do in their careers and how their job relates to the STEAM field, giving the kids some ideas about future career options and opportunities. The kids are then free to discuss what they want to make and how they can make it happen.
A team presents their project
Working in groups gives the kids opportunities to improve their communication skills and make new friends. This aspect of the program has helped many shy kids or kids with disabilities open up and become more communicative. After about five minutes of deciding what they want to build, the kids begin, continuing to communicate with each other throughout the building process. They're given an hour to build, which goes by very quickly when they are all having fun. During the hour-long build session, STEAM coaches, parents, and professionals in STEAM fields wander around and help the groups. Once the hour is up and everyone has put the finishing touches on what they made, the groups present their masterpieces to their peers and parents, who enjoy staying the entire time to observe.
The group members assign a speaker and a controller, but everyone in the group stands up at the front and shares their name. The speaker walks the audience through what the group made, while the controller moves the screen around.
This event is a great way for kids to learn and practice communication and presentation skills, to express their creativity, to make new friends, and to learn about STEAM careers!
For more information about participating in the STEAM Minecraft event, volunteering as a STEAM mentor or coach, or to RSVP, go to besthq.net/our-services/steam-minecr aft-program.