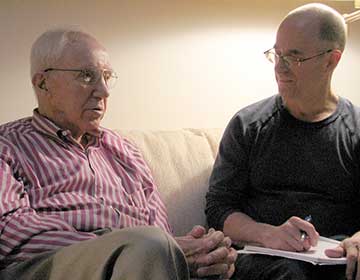 Bruce Bartlett interviews John Leeper
Local heroes


John Leeper


In Oregon, the opportunity for citizens to participate is an integral part of our land-use laws. Few people embody that principle better than John Leeper. He was honored for his years of service to Washington County at a recent celebration in the county services building. Past and present County Commissioners, staff and citizens showed up to acknowledge his inspiration and example.

Leeper chaired Citizen Participation Organization (CPO) 1, representing Cedar Mill and Cedar Hills, from 1998-2000, and went on to serve on the Board of County Commissioners from 2000-2006. During his time in public service, he participated in several efforts that helped shape Cedar Mill as we now know it.

Leeper was born in Leon, the county seat of Decatur County, Iowa. When he graduated from high school. WWII was under way and "all the boys in my senior class were looking forward to it" he recalls, "but they didn't have the foggiest idea of what they were going into." He entered basic training in 1943 and served in France. After the war, Leeper attended Stanford University under the GI Bill, graduated with a degree in Economics and met his future wife, Ermalou. When the Korean War broke out, he was in the Army Reserve and served as a Platoon Leader and then Company Commander from 1950-51.

John Leeper, right, sits with his wife Ermalou at the gathering celebrating his long years of service to Washington County. Current Chair Andy Duyck is at left.
When that war ended, Leeper contemplated his future. He and his wife had a long conversation about the consequences and finally agreed that he would make military leadership his career. He spent two years in Vietnam in 1961-62 when there were fewer than 1000 US military personnel in the country. Then it was back to Washington DC, and on to Germany. He was reassigned to Vietnam 1969-70, and then back to DC where his family had stayed. Leeper retired as a Colonel in August 1975, with numerous awards and decorations.
Early in his military career, he was advised to "take good care of your men and they will take care of you." He carried that philosophy forward into his later endeavors.
Initially living in Fairfax, VA in retirement, Leeper helped form the Rutherford Homes Association and Neighborhood Watch program which provided a patrol car manned by volunteers. After following her husband around the planet during his military career, his wife wanted to return to her home town of Portland. In 1991 John and Ermalou found a home in Cedar Hills. They liked Oregon's open spaces and high quality of life. They especially enjoyed the home's easy access to downtown Portland, the coast and mountains.
While his wife took a job teaching high school, Leeper got involved in the Homes Association of Cedar Hills (www.cedarhillshoa.org), and served as a board member from 1993-95. Eventually he realized that their perspective was not broad enough to be satisfying for him. He discovered the Washington County Citizen Participation Organization (CPO). He started going to CPO 1 meetings when Walt Gorman was chair, and immediately got involved in land use and transportation issues.
He was elected CPO 1 Chair in 1998. Metro's 2040 Growth Concept plan was taking shape, including the designation of Town Centers. Leeper was one of a group of CPO members who pushed to include Cedar Mill in the list of centers. Their input influenced the Cedar Mill Town Center ordinances which guide town center development.
His tenure as CPO 1 Chair was an eventful one for the community. It also included the planning and completion of the Westside Light Rail project. Leeper and CPO 1 pushed for the addition of the pedestrian overpass across Highway 26 that connects the Sunset Transit Center to residents on the south side. Budget constraints meant that less money could be spent on the parking structure, limiting its size and potential for expansion. Leeper and CPO 1 were also very active in plans to extend Cedar Hill Blvd from NW Barnes Road to NW Cornell Road—a very contentious project which was ultimately approved, substantially enhanced by citizen input.
Leeper served on the Metro Technical Advisory Committee (MTAC) from 1996-2000, was very active on the Beaverton School District Long Range Facilities Planning Committee from 1999-2000, and still volunteers at Ridgewood Elementary School.
He volunteered as a member of the Washington County Planning Commission from 1997-2000. In 2000, Washington County Commissioner Delna Jones had to resign from her position representing District 2, and after some encouragement from then-Chair Tom Brian, Leeper applied to fill the vacancy and was awarded the position. In 2002 he was elected to a full four-year term.
Leeper became known for his analytic abilities, and was quick to see the big picture and ask the hard questions. He says, "Even though the five Commissioners may have had very different views on some issues, after the vote was taken, we could move on without holding on to any animosity." His yardstick for decision-making was the overall good of the county first, and the individual citizens second. "Some people were strongly opposed, for example, to a certain street in their neighborhood, but if it was necessary for the overall circulation, then it had to be built."
He initiated the formation of a citizens advisory committee for the county's Urban Road Maintenance District (URMD), which maintains the neighborhood streets in the urban unincorporated area of the county.
He serves on the Washington County Public Affairs Forum Board of Directors. He is an active member of American Legion Post #124 (as a Vice Commander) and an active member of the Living History Program within which veterans share their experiences with Beaverton and Hillsboro high school students.
John and Ermalou have three sons, the oldest working in construction management, the middle son working in the legal profession, and the youngest working for the central office of the US Postal Service. He became interested in genealogy during his military career and, after completing narratives for his side of the family, has also written about his wife's family line.
Looking back on his years of public involvement, Leeper continues to feel frustrated over the lack of constructive involvement on the part of the citizenry. "People come to the CPO or to the Commission only seeing what affects them personally, and they're generally resistant to change. They need to take a broader view of what's good for the county, and how those broad needs necessarily trump the narrow needs of individuals." He'd like to see a greater effort to define the benefits of citizen participation.
Those of us who have volunteered with Leeper deeply appreciate the mentoring he provided, and his exemplary leadership.