"Shop Local" for your holidays
In addition to saving wear and tear on your car and your nerves, buying from small local businesses keeps the money circulating locally. Their taxes go to support our local infrastructure—schools, roads, safety. Their profits are also spent locally, and many of them keep their money in our credit unions. So consider that the perfect gift for your loved ones may be waiting just around the corner or down the street.
Book lovers rejoice
Both the Cedar Mill and Bethany libraries have an ongoing book sale during library hours. They feature a constantly-rotating book collection for adults and children. The quality is high. The prices are low. Items include some library discards, but mostly donated books. All proceeds support your library. For the price of one new book, you can give a stack!
If you prefer to shop online, they also sell books in their Amazon store, which has more than 2,000 items—visit today!
Treasures from local artists
The Annual Village Gallery Holiday Show continues, with new items added weekly. All items are hand-crafted and made by Portland area artists. Shop for cards, jewelry, paintings, silk scarves, mixed media pieces, fused and stained glass, sculpture, mosaic, pottery, fiber arts, tree ornaments and other creations that would make great gifts. The show runs through December 23. Village Gallery is located next to the Cedar Mill Library at 12505 NW Cornell Rd. and is open Tuesday-Saturday from 10-4; Sunday 12- 4, and closed on Mondays.
Second time around for terrific gifts and holiday wear
If you have people on your gift list who care about the planet and our community, what better gift for them than something recycled, where the money spent goes to support our wonderful library!
Second Edition is well-stocked with holiday items and fancy holiday clothing for all ages. The shop is located next to the Cedar Mill Community Library. All profits fund the library.
Deck the halls with boughs of local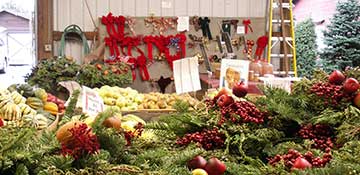 Wreaths are stacked high at Dinihanians. Bows and other supplies to make your own are also available
Dinihanian's has been providing holiday greenery for years from their warehouse and assembly facility at 10500 NW Cornell. For the last few years, they've been selling trees, wreaths, and other fresh greens at wholesale prices to the public. Find bulk greenery and ribbons too if you want to do it yourself.
Beautiful trees and local greenery are also for sale at Bales Thriftway, along with centerpieces and other holiday-themed floral decorations inside.
For lighting and other decorating supplies and equipment, find a great selection at our local Ace Hardware in the Milltowner Center at Cornell and Saltzman. And of course they also carry tools, kitchen and gardening equipment and gadgets, and practical stocking-stuffers galore.
A good selection of cards, wrapping paper and shipping needs are on sale at Mailboxes Etc. in the "triangle" center next to the Wine Cellar. The UPS Store in the Peterkort Center can help with holiday shipping too.
Cards by Lori Bitter can help mow through your holiday card list to leave you with more time for the fun stuff. This SendOutCards distributor can help you select cards and then make sure everyone on your list gets theirs. Call her at 503-524-1111 for more information or visit CardsbyLoriBitter.com
For the foodies on your list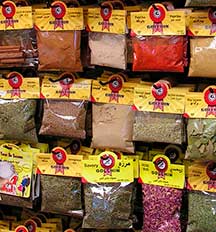 Pars Market, at 12923 NW Cornell, has an exotic assortment of condiments, spices, teas and other interesting Middle-eastern and Persian foods, along with practical cooking equipment.
Bales Thriftway has an excellent wine shop where wine steward Steve will guide your choice of a premium vintage for gifting or holiday entertaining. They also have kitchenware and towels, and many gourmet condiment selections so you can create a nifty gift basket for your favorite cook. And there's always the rack of gift cards...
The Wine Cellar, at 525 NW Saltzman, also offers wine and wine-buying advice, along with glassware, tools and gadgets to round out anyone's collection. They can also provide a gift certificate for their excellent classes. Newly-opened Barrel, in the Oak Hills Center, is another source for wine and wine supplies.
Our local Mountain Man supplier, Joanne Hollister, has really cute holiday items and holiday baskets for gifting, along with a vast assortment of tasty snacks for parties. Contact her at 503-701-4005 or order online from http://www.joannesgiftsandgoodies.com
Cedar Mill Liquor, in the Cedar Mill Place on Cornell west of Murray, has an extensive stock of cigars along with hard-to-find liquor and barware. They have some very nice gift boxes that include a bottle of liquor and glasses.
Gifts of health and relaxation
Angelic Healing Hands, at 1225 NW Murray, has a selection of gift certificates, so you can help your loved ones feel better. They also carry a variety of candles, incense, and other items to bring peace and delight.
Our numerous nail salons will be happy to provide gift certificates for relaxing pedicures. This indulgent yet practical gift is sure to please someone on your list. Wrap one around a bottle of polish for a nifty stocking-stuffer.
Sunset Yoga, on the second floor of the 12923 Cornell building, has gift certificates for their classes too. And you get one free class with each gift certificate over $50.
And etcetera...
Gifts for your furry family members can be found at the Pet Barn next to Bales. Could you inspire a nature-loving child to be more observant with a feeder and food for hungry wild birds? Holistic Pet in Sunset Mall (Safeway) also has cool stuff.
The folks at Mike's Auto Parts can help you select something to please a vehicle enthusiast on your list, whether it's something to snazz up a car (fuzzy dice?) or something practical like a set of new wipers (including installation) or a battery.
We hope this collection of suggestions inspires you to think locally for checking off the names on your gift list. Next month, we're bringing out a new edition of our Cedar Mill Business Map to help you keep shopping "local" all year long.