Cedar Mill Business Roundup
Bales Cheese & Wine
If you're entertaining this holiday season, be sure to visit Bales' cheese counter for Marc Cretarolo's amazing selection of imported and domestic cheeses. He's constantly on the lookout for new items to bring us, and he's very knowledgeable about the best ways to serve and enjoy them. The counter also stocks intriguing crackers and spreads to go with the cheeses, as well as patés, charcuterie, and specialty salts.
Steve Gale, Bales' wine steward, can help you plan the beverages for your party, and suggest wine & cheese pairings to make your get-together a memorable event.
Cedar Mill Liquor Store now has beer and wine
Recent OLCC changes have allowed Cedar Mill Liquor and Cigar to increase their store selection. They are now offering beer, wine, champagne, and cider! Their selection of wine a beer features a strong Northwest presence, and also includes many liquors from the burgeoning Oregon craft distilling industry. Good selection, fair prices, and a very friendly team wait to assist you. Stop in and see them soon in the Sunset Mall, on the south side of Cornell opposite Safeway.
CMBA Annual Meeting
The Cedar Mill Business Association held its Annual Meeting Luncheon on December 10 at the Sunset Athletic Club. The group elected a slate of three new board members, and enjoyed food prepared by members who are caterers and other food vendors. Members were able to renew for 2014 at a discount, and many left with nice raffle items that had been donated by other members. The next regular meeting of the group will be on Tuesday, January 14, 11:45-1 pm at the Cedar Mill Bible Church chapel.
Learn more about the CMBA on the website.
Impression Dance Club
New dance classes start in January, so swing in the New Year with some swing dance lessons at Leedy Grange. Beginner's group class starts Wednesday January 8, with private lessons available too.
Community Swing & Social Dances are still happening at the Leedy Grange Hall every second and fourth Saturday. Beginner's lesson at 7 pm, Open Dancing 7:30-10 pm. $7/adults; $5/students. Holiday gift certificates are available as well! Contact Cynthia at 971-226-1119 or ImpressionsDanceClub.net.
New Clinic Combines Conventional And Alternative Medicine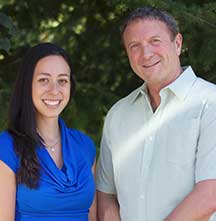 Doctors Zelfand and Thomas
"The clinic is named Natura, which is Latin for nature," explains Paul Thomas, MD. Thomas, who also owns Integrative Pediatrics, founded Natura in order to expand his holistic healthcare approach to adult patients. His practice at Natura emphasizes bio-identical hormone therapy, and assessing and treating nutritional deficiencies.
Thomas is joined at Natura by Dr. Erica Zelfand, an integrative family physician. "I draw from a number of healing modalities," says Zelfand, who was trained at one of the only medical schools in the country to teach both conventional and natural medicine.
Dr. Zelfand also offers a cutting-edge approach to treating Human Papilloma Virus (HPV) infections in affected women. Her approach involves natural therapies to enhance the immune system and offer women a natural alternative to surgery. The clinic also offers acupuncture and massage services.
"There aren't many clinics in this area that do what we do," says Thomas. "We're excited to be here." For more information, or to schedule an interview, contact Dr. Erica Zelfand at 971- 317-0222 or DrErica@NaturaIntegrativeMedicine.com.
Yoga for Japanese speakers
Santosha Yoga owner Katy Nadal writes, "A young Japanese woman came into the studio to inquire about a teaching job. She had just finished her training. We weren't looking for new teachers, but as we talked, we decided that there might be Japanese speakers in the area who might like to be able to take yoga in their own language. So, we decided to offer a class."
"It's still new, but there is definitely an interest—we just need to spread the word. So...Yoga in Japanese is being offered Wednesday afternoons at 2 pm at Santosha Yoga in Bethany Village.
The first sessions ended on December 11. New students can join in January when the class will start up again. Arigato!
Contact them at 503-372-9825, or katy@santoshaforeverybody.com or www.santoshaforeverybody.com
Winter Solstice Restorative Yoga
Amy Duncan will be teaching her popular Winter Solstice Restorative Class on December 22, from 4-6 pm.
Take just two hours to quiet your mind, relax your body and refresh your spirit with a restorative yoga class. While all the poses in yoga are considered restorative, there are a series of poses that require little or no exertion on the student's part. One is able to be in a pose for a longer period of time and thereby able to go deeper into the pose. These poses will bring a balance to the overworked and stressed systems of the human body.
This class will include poses to lengthen and stretch the body before beginning the longer and quieting poses, as well as breathing and meditation. All levels are welcome. Poses will be adapted as needed by individual students.
Please preregister by calling 503.539.4504 or online at sunsetyoga.com.
Help Wanted
Skyline Memorial Gardens & Funeral Home currently has career opportunities for motivated sales professionals who are service minded, energetic, and ambitious. Experience in the funeral home or cemetery industry is helpful but not necessary. We provide excellent structured training both in the classroom and in the field. If you want to help others in their time of need while making a substantial income, please contact us to arrange an interview. Stop by 4101 NW Skyline Boulevard, or call 503-292-6611.
Village Gallery of Arts News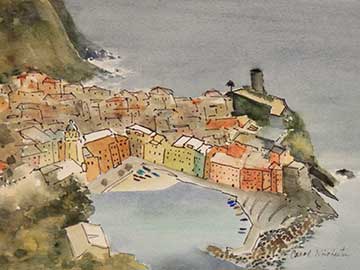 One of Carol Winchester's watercolors from her trip to Italy
December Events: Group Show: Italian Memories, December 3 - January 3
A group of VGA members traveled to Italy together. Paintings from their trip, by artists Linda Nye, Rene Eisenbart, Carol Winchester, Judi Weigandt, Kay Gifford and Debbie Marble, are on display.
Among the classes offered this month and next are:
Kristi Roberts— Children's Art Classes (www.kristisfineart.com) $30. Ages 7-12 yrs: Mondays, December 2, 9, 16, 3:30-4:30. Ages 10-14 yrs: Mondays, December 2, 9, 16, 4:45-5:45. Ages 7-12 yrs: Wednesdays, December 4, 11, 18, 3:45-4:45. Fine art concepts and techniques taught through drawing, watercolor, acrylic, pastels, clay and mixed media. Classes fill quickly, please call the gallery for registration.
Nancy Cuevas— Beginning Drawing, Thursdays, December 6, 13, 20, 12-3 pm at the artist's studio in Hillsboro. Learning to draw is mostly about identifying what we really "see." Students will learn how to draw accurately using step-by-step instruction at their own pace. Use simple geometric shapes to create simple to complex compositions by navigating through a gray value scale. This class usually takes 8-10 weeks to complete. All levels, ages 15 and older. www.nancycuevas.com.
Call the Gallery at (503)644-8001 or visit www.villagegalleryarts.org for additional information about membership
VGA is a non-profit, cooperative gallery in operation since 1963, located on 12505 NW Cornell Road, next to the Cedar Mill Library. Their holiday hours are Tuesday - Thursday, 10 am – 4 pm; Friday 10 am-6 pm,Saturday 10 am–4 pm; Sunday 12-4 pm.
Greek Village wraps up lottery
Owner Irene Pavlatos continues to make improvements and host special events at the Greek Village, located off Murray just south of the Sunset Highway. "We are having a New Years Eve Masquerade Party," she tells us. "We've also enclosed the video lottery area to make it more cozy and private for our players. We are also open on Christmas and serving a full dinner at 2 pm while it lasts."
If you're looking for a good place for lunch, don't forget "The Greek." They have an assortment of delicious burgers, sandwiches and salads, along with crispy fries. Friendly atmosphere and an assortment of beverages make this a great place to meet friends or just enjoy a lunch break.
Sign up on their Facebook page for news and specials.