Business News December 2017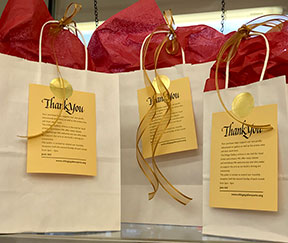 VGA has designed new gift bags for this season
Village Gallery of Arts News
All events (unless otherwise noted) are at the Gallery, 12505 NW Cornell, next to the Cedar Mill Library. Open Mon.-Sat., 10-4; Sun. 12-4. Contact: www.villagegalleryarts.org, 503-644-8001.
December Show and Sale Holiday Party
Sun., Dec. 10, 2-4 pm, free.
Visit our gallery this December to find affordable holiday gifts, decorations, and cards all created by local artisans. A diverse collection of ornaments made by our artists will add to any decor and make great gifts.
New classes this winter:
Kristi Roberts—Children's Art Classes
Mondays: 3:45-4:45 pm for ages 7-11 and 5-6 pm for ages 11-16
Children have an opportunity to try out different mediums including drawing, watercolor, acrylic, pastels, clay and mixed media. Fine art concepts and techniques are taught with each lesson. Varied subjects include landscapes, people, faces, animals, cartooning and perspective.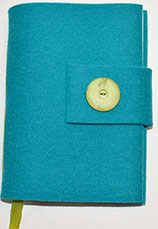 Sue Selbie—Children's Workshop "Let's Make A Felt Journal"
Wed., Dec. 13, 2-4 pm, $30. Ages 8-12.
You will learn how to fold and stitch in pages into your felt journal with decorated paper for your end pages, a ribbon bookmark, and a wool felt cover. Everything you need to complete the journal will be provided in class.
Mary Burgess—Paint Your Pet In Watercolor
Wednesdays starting Jan. 10: Morning class 9:30-12:30 pm and Evening class 6-9 pm
Learn to paint animal portraits in watercolor using traditional techniques. We will concentrate on photographing animals, painting eyes, fur, feathers and more. The class includes structured lessons and instructor coaching on your paintings.
Please see our website for information on our complete Winter Class lineup at www.villagegalleryarts.org. To register, visit or call 503-644-8001.
CMBA Holiday Party and Annual Meeting
Tues., Dec. 12, 11:45-1:15 pm, Sunset Athletic Club, 13939 NW Cornell Road.
One person from each Cedar Mill Business Association business may attend. Additional associates and guests are $10 each. Visitors are welcome with $10 payment. Please bring something for our gift exchange (suggested value is $25). Please RSVP to Chelsea Adams: admin@cedarmillbiz.com.
CMBA announces new membership plan

The Cedar Mill Business Association is changing the way we do payments to give people more options and added convenience. If you sign up as a subscriber, you get to lock into the rate for $110/year.
You can pay the annual fee of $110 but it won't lock in your rate, which will inevitably increase a little bit every year or two. You can also opt to pay monthly now as a subscriber for $15/month if you are still undecided about an annual membership.
The biggest advantage to subscribing is that you will be paying automatically without the hassle of wondering if you have made your payment or waiting to get an invoice, etc. and you can lock in your rates. It also allows new members to join for a full year at any time during the year, rather than paying for a partial year and then renewing at the beginning of the year again. Click on the Membership link on our website to choose your option. As an alternative, you can pay at the annual party, above.
Edward Jones Financial Advisor Sponsors Coffee Club
Dec. 15, 9 am, NextHome Realty Connection, 12923 NW Cornell Road Suite 101.
Brian Harvey, a local Edward Jones financial advisor, will host a coffee club and informal gathering whereby Edward Jones financial advisors provide an update on the stock market and the economy in a relaxed environment. To reserve a seat, call Jessica Almirol at 503-644-5104.
Edward Jones provides financial services in the U.S. and, through its affiliate, in Canada. Visit the firm's website at www.edwardjones.com and its recruiting website at www.careers.edwardjones.com. Member SIPC.
Skyline Memorial Gardens Hosts Annual Women's Shelter Supply Drive
Skyline Memorial Gardens is collecting items for the Salvation Army's West Women's and Children's Shelter until the end of December. This shelter provides opportunities for self-sufficiency to homeless and abused women and children through shelter and support services.
To support women and children recovering from domestic violence, please donate Target or Fred Meyer gift cards, new or gently used luggage, pens, paper, new day planners, bedding, household items, cleaning supplies, hygiene products, diapers & wipes.
For the first time, Skyline Memorial Gardens is also accepting recyclable bottles and cans that can be returned for a deposit. 100% of these funds will go to benefit the Salvation Army West Women's & Children's Shelter.
Sandoval's Café & Cantina, at the intersection of SW Barnes and NW Miller Rd., is generously donating their recyclable bottles and cans for this event. In addition, Skyline Memorial Gardens will accept donations through December 31, drop off or call 503-292-6611 for pick-up. Skyline Memorial Gardens is located at 4101 NW Skyline Blvd., Portland, OR 97229.
Also, donations of clean containers in bags or boxes may be dropped off at the Cedar Mill News office, 12505 NW Cornell, Ste 4 (2 doors up from the laundromat). If the office is closed, donations may be left near the door.
Cozy Peppermint Spa Pedicure Special
Lindsey for Nails, at Ahead of Style Salon & Spa, is offering a delightful special to help your feet make it through the holiday, for only $40.
Featuring a complimentary warm neck wrap and a soothing Peppermint Epsom soak, this pedi uses a moisturizing olive oil scrub, that's then locked in with warm towels and revitalizing tea mask, that will leave your skin feeling smooth and quenched during this dry season! To finish, wintergreen and peppermint will be utilized during massage to soothe not just tired feet and muscles, but those sometimes frazzled emotions that the holidays can bring. Plus who doesn't want sparkly, festive toes?
Ahead of Style is located at 21195 NW West Union Rd. Call or text 503-708-5557 to book Lindsey's nail services.
Wellness Event at Pharmaca
"De-stress Your Skin"
Sat. Dec. 16, 2:15-3 pm, 240 NW Lost Springs Terrace #36
Holiday stress and cold weather causing your radiant skin to suffer? Need to revive and beautify your skin for the holidays? Join us for an educational session with our licensed esthetician Alicia. Learn about proper facial care and the products you need to nourish and revive your skin. Attendees will receive a $5-off store coupon! Test out products and take home free samples for your health and beauty.